Sarah Paulson might be a "murderer" on 'American Horror Story' season 7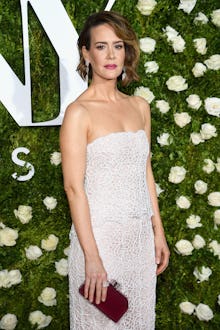 Sarah Paulson could be the next big bad of American Horror Story.
Paulson's last flirtation with evil on American Horror Story was as ghostly addict Sally McKenna on season five's Hotel — but even then, she showed glimmers of compassion. However, new photos from an American Horror Story filming location in Orange, California, seem to depict protestors flashing Paulson's face across signs that say "murderer." Could she be a bonafide villain in season seven?
The protestors also have signs that say "Justice for Pedro" and "Immigrants Welcome," which could mean that Paulson's character is somehow involved with the death of an immigrant named Pedro. And judging by the protestors' modern outfits, we can assume this rally is taking place in the present day.
Paulson can actually be seen on set with the protestors, which indicates that her character hasn't been jailed as a murderer. Considering that season seven is inspired by the 2016 presidential election, perhaps Paulson is an anti-immigrant politician whose policies harm immigrants.
The protest occurs near a false storefront for "The Butchery on Main," which could be a reference to the Piggyman of Murder House or the Butcher of Roanoke. Previous American Horror Story clues have hinted at a demonic monster that possibly kills both Democrats and Republicans.
Mic has ongoing American Horror Story coverage. Please follow our main American Horror Story hub here.