Christian Louboutin releases 2 new shoe styles for its inclusive nude collection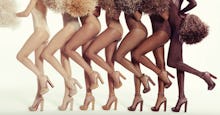 In a 2015 tweet, shoe designer Christian Louboutin described his mission to diversify what nude shoes really look like: "Nude is not a color, but a concept."
Today, Louboutin made good on that idea yet again, launching two new styles for the brand's inclusive nude collection, which features seven different shades.
One style is a platform pump, going for $895.
The other is a wrap-up heel, going for $875.
Louboutin's nude collection launched in 2013 with pumps in five different shades. He debuted new styles in 2015, and a year later he debuted two new shades for customers to choose from. In total now, there are four styles in seven different shades for customers to choose from.
"I've always done a Nude shoe but only using the color beige," Louboutin said in a blog post in 2015, noting that it wasn't until a co-worker told him, "Beige is not the color of my skin," that he understood the real predicament.
Since Louboutin's embrace of a more diverse definition of nude in 2015, several other industries have taken note, like lingerie and hosiery and even bandaids.
By adding more styles too, Louboutin hints that there has been a demand for these shoes, and that he's now giving his customers even more.