'NBA 2K17' off-season rosters: Peek at 'NBA 2K18' with current free agents and trades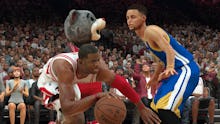 NBA 2K17 fans are anxiously awaiting the release of NBA 2K18 for a variety of reasons but not least among them is the opportunity to play with the rookies, free agents and traded players.
The NBA offseason has only been underway for a little over two weeks and there's already been a plethora of player movement. Unfortunately, 2K doesn't officially do any roster updates once the season is over, but with NBA 2K17's community-share feature, gamers can create rookies, add them to a roster and share them with others.
How to preview NBA 2K18 with off-season rosters on Xbox One and PS4
Thanks to EmbraceThePace (PS4) and BryanDfor3 (XB1) fans have accessed updated rosters to use with realistic player ratings, adjusted ages and salaries.
To download the rosters on your console of choice, here's what you need to do: 
• Head to the main menu and select "options and features."
• From there, select "roster creator." Then choose "create a roster."
• Once the roster picker screen appears, use the triangle or Y button to search for the data. Choose search by online ID and input the PSN ID or Gamertag as it appears above.
• For Xbox One, the roster name is: 2K18 Rooks, Trades & Signings. For PS4, the roster name is 2017 Offseason w/All Rookies.
Once you've selected the roster, save it on your hard drive, and it will be available to you for Play Now, MyGM and MyLeague modes. The ratings and salaries aren't official, but they are plausible, so downloading these rosters will allow you to continue on the fun until NBA 2K18 is released.
More sports gaming news and updates
Love sports games? Check out more content from Mic, including tips for leveling up your MLB The Show RTTS player, the new story mode in Madden 18, a wish for the WWE 2K18 release and a detailed sports video game release calendar.