White House's Election Integrity Commission goes into action — with objections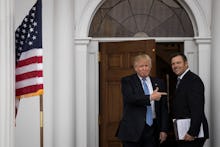 A federal commission created by President Donald Trump to root out fraud in America's voting systems sprung into action this week — and its very first actions are setting off alarm bells with public officials and watchdogs alike.
A Wednesday letter signed by Kansas Secretary of State Kris Kobach, who's co-chairing the controversial panel with Vice President Mike Pence, asks Kobach's counterparts across the country for detailed personal information on voters.
The requested data, according to a copy of the letter provided to Mic by the Lawyers' Committee for Civil Rights Under Law, includes:
... the full first and last names of all registrants, middle names or initials if available, addresses, dates of birth, political party (if recorded in your state), last four digits of social security number if available, voter history (elections voted in) from 2006 onward, active/inactive status, cancelled status, information regarding any felony convictions, information regarding voter registration in another state, information regarding military status, and overseas citizen information.
"We fully condemn actions taken today by the president's Election Integrity Commission seeking disclosure of data and personal information on virtually every voter across the country," Kristen Clarke, head of the Lawyers' Committee, said in an emailed statement Thursday afternoon. "This meritless inquisition opens the door for a misguided and ill-advised commission to take steps to target and harass voters."
Clarke, whose group has set up a hotline for people to report contacts with the presidential panel they find disturbing, urged officials not to cooperate with "this commission's dangerous activities."
The White House announced Wednesday that the integrity panel's first meeting will be held July 19 in Washington, D.C.
The Lawyers' Committee, in a video posted the same day, had labeled the entire commission "a sham."
Connecticut Secretary of State Denise Merrill, a Democrat, said in a statement emailed to reporters that the Constitution State would share information while protecting voters' privacy — and tore into Kobach.
"We will request that the commission share any memos, meeting minutes or additional information as state officials have not been told precisely what the commission is looking for," Merrill said.
"This lack of openness is all the more concerning, considering that the vice chair of the commission, Kris Kobach, has a lengthy record of illegally disenfranchising eligible voters in Kansas," she said, pointing specifically to a 2016 court case.
Just last week, a federal judge sanctioned Kobach for "deceptive conduct and lack of candor" in the case, in which the secretary of state argues it has the right to require proof of citizenship before adding people to the voter rolls.
In an emailed statement, former Missouri Secretary of State Jason Kander, who now runs the watchdog group Let America Vote, said: "It's obviously very concerning when the federal government is attempting to get the name, address, birth date, political party and social security number of every voter in the country. I certainly don't trust the Trump administration with that information, and people across the country should be outraged."
A spokesperson for Kobach's office could not immediately be reached by phone Thursday.
Kobach, who's also running for governor of Kansas, tweeted a link on Thursday to a news story about a Virginia man sentenced to a jail term for submitting the names of dead people to officials while registering people to vote in 2016.
"And the left-wing media continues to tell us that voter fraud is a myth," Kobach scoffed.
By Thursday afternoon, California Secretary of State Alex Padilla said in a statement that he would not comply with the Pence/Kobach panel's request.
"The president's commission is a waste of taxpayer money and a distraction from the real threats to the integrity of our elections today: aging voting systems and documented Russian interference in our elections," Padilla said.
Vanita Gupta, who ran the Justice Department's Civil Rights Division during the Obama administration, also sounded an alarm about Kobach's request on Twitter.
"Pence and Kobach are laying the groundwork for voter suppression, plain & simple," said Gupta, president of the Leadership Conference on Civil and Human Rights advocacy group.
June 29, 2017, 5:07 p.m.: This story has been updated.