Northern Irish women no longer need to fund their own abortions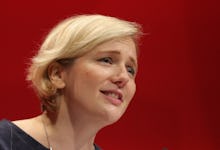 Northern Irish women will no longer need to pay hundreds of dollars out of pocket for abortion procedures, thanks to a new amendment passed Thursday.
The legislation, proposed by Labor MP Stella Creasy, allows women from Northern Ireland to undergo free abortions in Great Britain through the National Health System. The amendment received cross-party support from more than 100 MPs in the House of Commons, including conservative MP Peter Bottomley and Green party co-leader Caroline Lucas.
Northern Ireland's strict abortion laws prohibit women from terminating pregnancies in their own country unless their life, physical safety or mental health is at stake. Rape, incest and potentially fatal fetal abnormalities are not considered permissible reasons to end a pregnancy early in Northern Ireland.
Because of this, Northern Irish women have long been forced to travel to mainland Britain in order to receive abortion services. This will not change under the new legislation.
However, with the amendment in place, Northern Irish women will no longer be responsible for funding the 400-pound ($520) to 2,000-pound ($2,601) procedure themselves. Instead, abortions will be subsidized through the government's Equalities Office, though women will still need to pay for their own travel arrangements to Great Britain.
This new policy appears to be a win for pro-choice advocates, but Creasy and her followers recognize that the fight is not over until Northern Irish women can receive abortion services in their own country.
Abortion provider Marie Stopes told BBC that the amendment is "a hugely positive step forward, but there is no reason why these services shouldn't be provided in Northern Ireland, saving thousands of women each year the cost and stress of traveling to the mainland."
Creasy offered similar sentiments on Twitter.