'Sense8' News: Netflix series not renewed for season 3, but returning for 2-hour special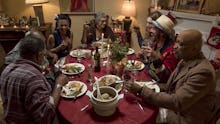 Netflix has proven no match for Sense8 fans.
Just a month after cancelling the acclaimed series, the streaming service has finally given in to fan demands and ordered a two-hour series finale. Co-creator Lana Wachowski broke the news in a heartfelt letter on Twitter.
"It is my great pleasure as well as Netflix's (believe me, they love the show as much as we do but the numbers have always been challenging) to announce that there will be another two-hour special released next year," she wrote. "After that ... if this experience has taught me anything, you NEVER know."
Wachowski credited her "Sense8 family" in getting the go-ahead from Netflix.
"By myself, there was nothing I could do," wrote Wachowski. "But just as the characters in our show discover that they are not alone, I too have learned that I am not just a me. I am also a we."
Fans were so indignant after the show's cancellation in early June that Netflix was compelled to publicly apologize on Facebook. One major complaint was that season two, which began streaming in May, ended on a cliffhanger in which many of the show's sensates were together for the first time ever. But now fans will finally learn what happens to the gang (and Wolfgang).
Sense8's continents-spanning tale of eight sensates — played by Toby Onwumere, Tina Desai, Miguel Angel Silvestre, Jamie Clayton, Tuppence Middleton, Doona Bae, Brian J. Smith and Max Riemelt — connected by a psychic link was one of Netflix's most expensive series ever. But its gripping central mystery, stylish action, hypnotic cinematography and outstanding commitment to diversity made it an international favorite.
And if Wachowski's final words are to be believed, then the show may be returning for more than just a finale.
Mic has ongoing Sense8 coverage. Check out our main Sense8 hub here.