Opioid addiction diagnoses have spiked nearly 500% in just 7 years, study shows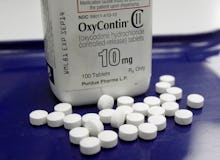 The United States is in the midst of an opioid crisis, and a new report shows just how dire the situation has become.
Diagnoses for opioid use disorders have increased by nearly 500% over a seven-year period, according to a new study released by the Blue Cross Blue Shield Association on Thursday.
In a survey of more than 30 million people with BCBS insurance, the report also found a 65% rate of increase in the use of medication-assisted addiction treatments like buprenorphine. That number, however, is far outpaced by the increase in addiction to opioids, including prescription painkillers and cheaper street drugs like heroin.
Another key finding of the report is that southern and lower midwestern states have the highest rates of opioid abuse disorder diagnoses – and, typically, the lowest rates of medication-assisted treatment.
"Opioid use disorder is a complex issue, and there is no single approach to solving it," Dr. Trent Haywood, senior vice president and chief medical officer for BCBSA, said in a statement.
"It will take a collaborative effort among medical professionals, insurers, employers, communities and all levels of government working together to develop solutions that effectively meet community needs," Haywood continued.
John Kelly, an associate professor of psychiatry in addiction medicine at Harvard Medical School, said to the Wall Street Journal that the study is reflective of the United States reaching "the public health equivalent of 'DEFCON 5'" with the opioid crisis.
"High-dose, long-duration prescribing practices, which can drive up rates of opioid-use disorder, are still too common," he told the Journal. "This needs much closer attention and monitoring to curb the onset of new cases of opioid-use disorder."
According to the Centers for Disease Control and Prevention, 91 Americans die each day from an opioid-related overdose.