Project Veritas operative told CNN producer a sob story to get 1-on-1 meetings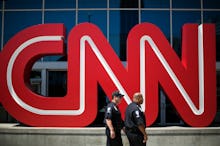 The source of several secretly recorded videos in which a CNN medical producer criticized the channel's coverage of President Donald Trump and Russia pretended to need a personal mentor in order to get meetings with that producer, Mic has learned.
The videos, released by the conservative site Project Veritas on Tuesday has ricocheted across conservative media as evidence that CNN's coverage of Trump and Russia has been disingenuous. In the video, CNN Health supervising producer John Bonifield can be heard saying that CNN's coverage is mostly ratings-driven, and that the Russia story is "mostly bullshit right now."
"I love the news business, but I'm very cynical about it and at the time so are most of my colleagues," Bonifield said in the video.
People at CNN familiar with the matter told Mic that Bonifield had had multiple meetings with the person who secretly filmed their conversations because he thought he was mentoring that person. According to the people Mic spoke to, the Project Veritas source, whose name has not been released, told Bonifield he was struggling with his identity and with the death of a parent, and said that he was considering a career in journalism.
The Project Veritas source's purported interest in becoming a journalist connected him to Bonifield, who ultimately gave that person a tour of CNN in Atlanta.
Bonifield and the person met about half a dozen times. During that time, the person also told Bonifield he was struggling to fit in and that he had other personal problems.
The source to Project Veritas pretended to seek coaching through an Atlanta-based peer mentorship program where Bonifield was a volunteer coach. The Washington Post first reported that the Project Veritas source and Bonifield met through this organization.
A Project Veritas spokesperson said that the organization does not disclose or discuss the methods it uses or the identities of it sources.
After the release of the videos, on Tuesday, CNN said it "stood by" Bonifield.
"Diversity of personal opinion is what makes CNN strong, we welcome it and embrace it," the company said in a statement to Mic at the time.
Project Veritas was founded by conservative activist James O'Keefe and is known for its release of secretly made recordings. The conservative project became well-known after a series of undercover videos about the Association of Community Organizations for Reform Now, or ACORN, led to investigations into the group's conduct and ACORN's eventual shutdown. Subsequent investigations into those videos, which seemed to show illegal activity, determined that the videos had been "heavily edited" to suggest illegal conduct had occurred. O'Keefe later paid $100,000 and issued an apology to settle a lawsuit filed by a former ACORN employee.
Project Veritas has been criticized for the way it has collected information and for its editing, which has led to legal action in other cases. O'Keefe pleaded guilty to entering federal property under false pretenses as part of an attempted sting on a Democratic senator. He is facing lawsuits for his recording methods and for defamation. The recordings made of Bonifield may also have legal ramifications.
The Project Veritas spokesperson said that the organization believes it followed "the letter and intent of the law."
Since the release of the video with Bonifield, Project Veritas has released two other videos about CNN, including one in which O'Keefe released CNN president Jeff Zucker's personal address and waited outside his residence in an attempt to talk to him. The recording, released Thursday, showed Zucker walking to a car outside of his apartment building, and O'Keefe calling Zucker "cowardly."
In another video released this week, CNN host Van Jones was recorded saying that the Russia storyline is "a big nothing burger," a sentiment he has shared elsewhere. In response to the release of the undercover Van Jones video, a CNN spokesperson told Mic: "Lol."
On Friday, Project Veritas again released another video in which a CNN producer based in New York is recorded saying that Trump is "hilariously under-qualified" and "fucking crazy," and making disparaging remarks about Trump voters and White House counselor to the president Kellyanne Conway.
A spokesperson for CNN did not respond to a request for comment regarding the video released Friday.