Greta Van Susteren abruptly let go by MSNBC as show ratings lag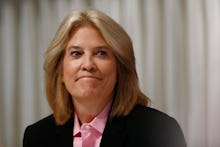 Greta Van Susteren, the longtime Fox News host who joined MSNBC earlier this year, is leaving the cable network after less than six months. Her last program was Wednesday night.
Van Susteren joined MSNBC in January, following nearly 15 years at Fox News, which she abruptly departed last fall. Van Susteren's 6 p.m. show on MSNBC, For The Record With Greta, had struggled to gain traction in the ratings since it premiered in January.
"MSNBC and Greta Van Susteren have decided to part ways," MSNBC president Phil Griffin said in a staff memo Thursday. "Greta is a well-regarded television veteran and one of only a few broadcasters who can say they've hosted shows at all three major cable news networks. We are grateful to her and wish her the best."
Ari Melber, MSNBC's chief legal correspondent, will take over the 6 p.m. slot beginning in July, Griffin said. Rotating hosts will fill in during the hour until then.
Van Susteren did not immediately respond to a request for comment. Van Susteren's husband, John Coale, told CNN that MSNBC "let her go."
This story is breaking and will continue to be updated.