New CBO report says Senate health care bill would cut Medicaid by more than a third by 2036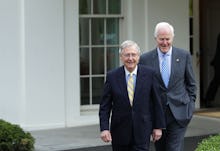 The Congressional Budget Office has weighed in on the Senate health care bill once again — this time to say it gets worse.
The first time the CBO evaluated the bill they determined that, were it to become law, 22 million people would lose their health insurance over the next decade, much of that through cuts to the Medicaid program. Now a new report says that the bill would cut projected Medicaid spending by more than a third (35%) over the next two decades.
Medicaid is the nation's single largest insurer and is relied upon by low-income Americans and the disabled who cannot get care elsewhere. Mic previously reported that the Senate bill's effect on Medicaid coverage would be even greater beyond 2026 because of the way Senate Republicans back-ended their cuts to the program.
Though the new CBO report does not offer an estimate of how many more people would lose coverage as a result of these cuts, it's safe to say it would affect even more than the 22 million people who were projected to lose coverage in the first report.