The House wants to put America's independent election watchdog out of business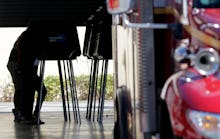 At the same moment watchdogs are calling out a new White House panel's massive request for voters' personal data, Congress is trying to slash funding for a small bipartisan agency that's supposed to improve the way elections run.
The notation, buried at the bottom of page 69 of the House Financial Services Appropriation Bill for spending in Fiscal Year 2018, would yank the entire $4 million budget of the Election Assistance Commission.
The EAC was created in 2002 thanks to the Help America Vote Act, which Congress passed "to make sweeping reforms to the nation's voting process." The commission's job includes certifying the hardware and software used to conduct elections.
Advocates say the timing couldn't be worse to get rid of the agency, which on Thursday released a major study of voting in the 2016 election.
"The EAC is responsible for creating voting systems guidelines that are intended to help ensure the accuracy and accessibility and security of voting systems that states use," Brenda Wright, vice president for policy and legal strategies for the public policy group Demos, said in a phone interview.
"That seems particularly important right now when we've been looking at allegations of hostile foreign governments hacking our voting systems," Wright said. "To eliminate the role of the EAC right at this time seems particularly misguided."
The EAC found itself on the budgetary chopping block as President Donald Trump's new voter integrity commission, co-chaired by Vice President Mike Pence and Kansas Secretary of State Kris Kobach, made a massive national request for states' voter records, right down to partial social security numbers.
The bipartisan panel, whose members will meet for the first time in mid-July, is geared in part toward rooting out the kind of voting or registration fraud Trump has repeatedly alleged, but never proven.
League of Women Voters President Chris Carson agreed the timing for dumping the EAC was foolhardy, saying in a statement that "with continuing controversy about the accuracy, conduct and participation in American elections, this is not the time to abolish the only federal entity devoted exclusively to improving election administration on a bipartisan basis."
A representative of the House Appropriations Committee didn't immediately respond to a request for comment on Thursday afternoon.