'Hot Mic' podcast: Trump's 'face-lift' tweet, GOP health care, Election Integrity Commission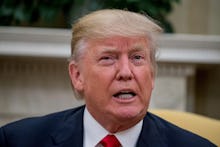 Listen and subscribe to the Hot Mic podcast from your mobile device:
Here are the important stories to get you caught up for Friday, June 30:
1. President Donald Trump faced backlash from Democrats and Republicans alike for his tweets attacking the hosts of MSNBC's Morning Joe.
2. The Congressional Budget Office released another analysis of the Senate health care bill as Republicans make changes to the legislation…and its findings are worse.
3. A federal commission created by Trump to root out fraud in the country's voting system is already setting off alarm bells with public officials and watchdogs.
Direct from Mic's newsroom, Hot Mic keeps listeners informed with a daily run-down of top stories, breaking news and analysis from our news team.