The German Parliament just voted to legalize same-sex marriage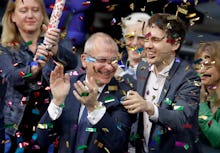 After a short vote on Friday, Germany's Parliament voted to approve same-sex marriage, paving the way for marriage equality in Germany, the New York Times reported on Friday.
The vote came just days after German Chancellor Angela Merkel, leader of the Christian Democrats, broke with her party's stance on the issue and dropped her opposition to same-sex marriage, saying she supported a free vote that allowed lawmakers to vote their conscience and not along party lines.
Now the bill will go to Germany's upper house, where, as CNN reported on Friday, it is likely to pass.
Merkel voted against the bill, but said that Friday's vote was important to show "not only the mutual respect for different opinions but that this also leads to more peace and social cohesion as well," CNN reported.
The bill passed Parliament by a wide margin of votes, 393 to 226, with four abstentions. Germany has had same-sex unions, the Times reported, but support for legalizing same-sex marriage has been growing for years.
According to CNN, a recent YouGov poll found that two-thirds of Germans supported legalizing same-sex marriage. Advocates celebrated the news on Friday.
Evelyne Paradis, the executive director of the International Lesbian, Gay, Bisexual, Trans and Intersex Association in Europe, said, "After years of waiting and hoping, rainbow families in Germany will now receive equal recognition under the law — this is a historic milestone that can inspire even more change for LGBTI people," according to CNN.