Mika Brzezinski and Joe Scarborough slam Trump's "temper tantrum" in scathing op-ed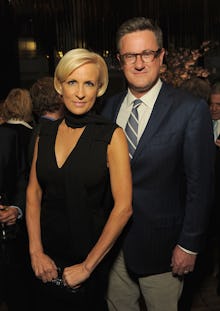 A day after President Donald Trump attacked MSNBC cohosts Mika Brzezinski and Joe Scarborough on Twitter, calling them "low I.Q. Crazy Mika" and "Psycho Joe," the two slammed him in a scathing Washington Post op-ed on Friday.
They called out Trump's obsession with their show as "unhealthy" and criticized his "West Wing temper tantrum."
"President Trump launched personal attacks against us Thursday, but our concerns about his unmoored behavior go far beyond the personal," Brzezinski and Scarborough wrote. "We are both certain that the man is not mentally equipped to continue watching our show, Morning Joe."
Trump faced criticism from all sides Thursday after he attacked the two hosts on Twitter that morning, tweeting "How come low I.Q. Crazy Mika, along with Psycho Joe, came to Mar-a-Lago 3 nights in a row around New Year's Eve, and insisted on joining me. She was bleeding badly from a face-lift. I said no!"
Members of his own party, including Senator Lindsey Graham, publicly criticized Trump's rhetoric. But a spokesperson for first lady Melania Trump seemed to indicate her support for Trump's personal attacks on the news hosts, saying "As the first lady has stated publicly in the past, when her husband gets attacked, he will punch back 10 times harder."
In their op-ed on Friday, Brzezinski and Scarborough dismissed the claims Trump made in his tweets as "false" and "laughable." They went on to say that the tweets were an ongoing part of Trump's "unrelenting assault on women."
"From his menstruation musings about Megyn Kelly, to his fat-shaming treatment of a former Miss Universe, to his braggadocio claims about grabbing women's genitalia, the 45th president is setting the poorest of standards for our children."
Brzezinski and Scarborough also suggested that Trump's "erratic" behavior has been a source of concern not only to them but also to Trump's close advisers. Their joint advice to Trump? Stop watching Morning Joe.
"We believe it would be better for America and the rest of the world if he would keep his 60-inch-plus flat-screen TV tuned to Fox & Friends."