The Islamic State has fully withdrawn from Syria's Aleppo province, report says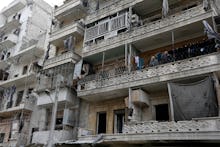 The Islamic State terror group has formally withdrawn its forces from Syria's Aleppo province, according to a Friday report from the Agence France-Presse news agency.
News of the group's retreat comes just one day after reports that Iraqi forces had recaptured key ISIS-controlled territory in Mosul, Iraq, including the ruins of al-Nuri Mosque, where the terror group had first declared an Islamic "caliphate" about three years ago.
"Daesh withdrew from 17 towns and villages and is now effectively outside of Aleppo province after having a presence there for four years," Rami Abdel Rahman, head of the Syrian Observatory for Human Rights, told the AFP.
This story is breaking and will be updated.