Zelda: Breath of the Wild Midna's Helmet: Regencia river location and how to find it in the new DLC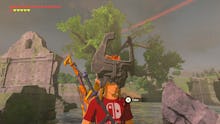 The Legend of Zelda: Breath of the Wild DLC may be the greatest downloadable content to ever hit Hyrule. The expansion pass download recently hit Nintendo's servers and you can finally get the Tingle outfit, challenge yourself in Trials of the Sword and more. And for Twilight Princess fans, the new Zelda DLC lets you wear headgear themed after that game's companion.
Here's where you can locate Midna's Helmet in the Zelda: Breath of the Wild DLC.
Zelda: Breath of the Wild DLC: Where you can find Midna's Helmet
When you fire up the game after installing the Zelda DLC, a list of side quests will populate the screen after a voice calls out to you. The side quest we're concerned with is EX Treasure: Twilight Relic.
As the side quest suggests, once you've fired up the Zelda DLC head to Outpost Ruins. Travel to the Central Tower, glide down and make your way over to the star on the map below.
Once you've traveled to where the star or arrow are, seen above, you'll want to fire up the Magnesis rune. The treasure chest you seek is trapped beneath water. Use your magnetic powers to lift the treasure chest out of the water. Open it up and, well, you know the rest.
Midna's Helmet will give Link added resistance against fighting Guardians. You aren't able to increase the helmet's power at Fairy Fountains unfortunately, but sometimes all you need is some base level protection while looking stylish as hell.
More Zelda: Breath of the Wild tips, tricks and guides
Find out all there is to know about Zelda: "Breath of the Wild", including what to expect from the Wii U version, how to preserve your items, how to beat bosses like the Stone Talus and Lynel, the best recipes for Link and how to take on the game's shrines. You'll also want to find out where all the great fairies in the game and how to use amiibo with your version of Zelda.