What does "4:44" mean? Jay-Z explains the key track and title to his new album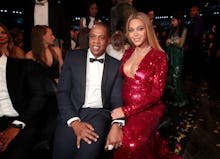 Since early June, the mystery was plastered all over New York City. Ads saying little besides "4:44" covered subway platforms, Times Square billboards as well as double-decker buses. It took a few weeks for Tidal to confirm they were promoting a new Jay-Z album, his 13th and first in four years — though this didn't help clarify why the rapper had abandoned his stone-cold narrative album titles for a cryptic string of numbers.
But on June 30, the riddle was finally answered, by none other than Jay-Z himself. In an interview with iHeartRadio published Friday, Jay-Z broke down the meanings behind each of the tracks on his new LP, including the significance of the album name and title track.
Essentially, it's what time it was when he figured out how to respond to Beyoncé's Lemonade.
"'4:44' is a song that I wrote, and it's the crux of the album, just right in the middle of the album," Jay told the radio conglomerate. "And I woke up, literally, at 4:44 in the morning, 4:44 a.m., to write this song. So it became the title of the album and everything. It's the title track because it's such a powerful song, and I just believe one of the best songs I've ever written."
The title track itself is a drawn-out apology delivered over a series of soul loops. It comes after several light nods to the MC's past mistakes and the accusations of infidelity Beyoncé alluded to on her 2016 Lemonade, but here the Bed-Stuy rapper really opens up and directly addresses his wife:
Look, I apologize, often womanize
Took for my child to be born
See through a woman's eyes
Took for these natural twins to believe in miracles
Took me too long for this song
I don't deserve you
Jay mentions Blue Ivy, his daughter with Beyoncé, as being a key factor motivating his repentance:
And if my children knew, I don't even know what I would do
If they ain't look at me the same
I would prob'ly die with all the shame
"You did what with who?"
What good is a ménage à trois when you have a soulmate?
"You risked that for Blue?"
It's a glimpse of a side of the MC we rarely see. He's poured his repentance over wax before — on his world-weary "Regrets" off his 1996 debut, and his heart-wrenching "Song Cry" off 2001's Blueprint. But every time he has come out with a sort of resigned admission that he did what he had to do, and that he's stronger for the trials. This time, it's hard to see that same confidence.
"I cut off my nose to spite my face," Jay-Z raps in the second verse. The mangled visage he reveals may be the most human he's ever looked.
Mic has ongoing music coverage. Follow our main music hub here.