The Trump administration is considering doing away with the White House Council on Women and Girls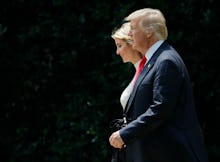 President Donald Trump and his administration have been weighing whether or not they should do away with the White House Council on Women and Girls, an Obama-era initiative dating back to 2009.
According to Politico, the council — whose mission is to ensure government agencies take into account the interests of women and girls — has been defunct since Trump took office in January.
"We want the input of various agencies to understand the assets they have so that we make this office additive, not redundant," White House spokesperson Hope Hicks explained to that outlet, noting that the administration is still debating the "best positioning" for the council.
Hicks also nodded to first daughter Ivanka Trump's own pushes for policies benefiting women, including her proposed parental leave policy and emphasis on STEM education for young girls. But Betsy Myers, the former director of Bill Clinton's Office of Women's Initiatives and Outreach, said Ivanka Trump's self-proclaimed dedication to women's issues isn't enough to safeguard women and girls in the Trump administration.
"That's the problem, there's nobody to reach out to except Ivanka," Myers told Politico. "If you don't have somebody with a full-time job and a team — and the right title because that allows you to get into the right meeting — then you're not going to be able to move the agenda forward on behalf of women."
Trump took aim at the federal government's programming for women and girls before he even took office.
In January, before his inauguration, Trump's transition team drew up a budget blueprint with plans to eliminate 25 of the Department of Justice's grant programs that distribute funds to organizations combatting sexual assault, dating violence and domestic abuse.
The planned cuts had been part of Trump's "skinny budget" plan, which proposed the elimination of the programs — as well as the elimination of several other government agencies — as a way to save the federal government $10.5 trillion over 10 years.
Terry O'Neill, the president of National Organization for Women, told Politico the White House's recent hemming and hawing over the Council on Women and Girls would only push women's interests further to the margins of the Trump administration.
"I see no evidence, zero, that Donald Trump has anyone in his orbit to advocate for women and girls," O'Neill said. "We need a real office that would really advocate."