Donald Trump's derogatory tweets: Is this the new normal?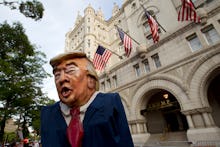 This is Mic's daily read on Donald Trump's America. Welcome to the political newsletter that would like you to weigh in on the president's tweets.
Want to receive this as a daily email in your inbox? Subscribe here.
On Thursday, the president of the United States attacked a woman's appearance and intelligence on Twitter. Pretty much everyone criticized Donald Trump's words as unacceptable and unpresidential, most notably members of his own party, such as House Speaker Paul Ryan (R-Wisc.). Sen. Susan Collins (R-Maine). Sen. Lindsey Graham (R-S.C.).
In the wake of Trump's words, it's worth remembering: This was the kind of derogatory, sexist language the president employed before he won the electoral college. Many assumed Trump would be punished at the ballot box. That didn't happen. Now the question is: Will there be consequences?
Journalists often say of Trump, "This is not normal." Opponents of the president have said these actions cannot be allowed to become "normal." But that word is defined as "usual, typical or expected." So we ask you — was the tweet below unusual, atypical or unexpected coming from this president?
Here at Mic, we want to know your reaction to the president's tweet. Send an email to trumpsamerica@mic.com with your thoughts. We'll compile the best responses and share them with you in Monday's newsletter.
Share this post on Facebook and Twitter so your friends can weigh in. Many thanks to the multitude of you who weighed in on yesterday's question.
Today's question: Please see above. Send your responses to trumpsamerica@mic.com.
We're seeking your support to expand our coverage of Donald Trump. As little as a $1 a month will give you access to an exclusive group to interact with Mic journalists and grow our reporting. Learn more here.
What we're watching:
Today: The president used Twitter to attack a woman's appearance and intelligence. What's your response?
More: Mika Brzezinski and Joe Scarborough respond to Trump's tweets.
Even more: The president is now calling for a full repeal of the Affordable Care Act. Millions would immediately lose health insurance.
Read Celeste Katz's latest on voting rights. The Trump administration is raising the specter of phony voter fraud to collect voter information on every American and gut an election watchdog.
Trump's agenda today: Speaking with the president of Turkey by phone. Hosting the president of South Korea. Traveling to his Bedminster, New Jersey, golf course for the weekend.
Morning Joe hosts, Joe and Mika, respond to Trump
On Friday morning's episode of Morning Joe, Mika Brzezinski and Joe Scarborough expressed deep concerns about the president's personal attacks on Mika. "I am very concerned as to what this reveals, once again, about the president of the United States," Brzezinski said. Both hosts relayed stories of Trump's unstable emotional state they had experienced over the past year. Watch here.
They also penned a response in the Washington Post.
Senate health care bill would eventually cut Medicaid by a third. Translation? No deal today.
The latest Congressional Budget Office report on the Senate health care bill says the proposal would cut funding to Medicaid more than a third by 2036 compared to current law. That news came as Republicans remain too far apart in their efforts to strike a deal on health care reform. Senate Majority Leader Mitch McConnell's (R-Ky.) hope of reaching an accord by Friday looks unlikely. Without a deal in sight, Sen. Ben Sasse (R-Neb.) sent a letter to the president arguing Republicans should repeal the Affordable Care Act now, if they cannot reach a deal, and return to the "replace" part of the catchphrase next month.
The latest from Trump: The president, following Sasse, called for a full repeal of the Affordable Care Act — if Republicans cannot come to a deal now. This has no chance of passage. For months, moderates have said they want to alter Obamacare, not eliminate it entirely. A full repeal would immediately drop tens of millions of people from the insurance rolls.
News and insight you cannot miss:
• After five months, the president's travel ban is in effect. The Trump administration is only allowing the closest family members of people in the U.S. to enter America from six majority-Muslim countries. Grandparents, fiancés and stepchildren are not allowed to enter.
• The House passed a bill targeting sanctuary cities and another targeting immigrants who commit crimes. Here's why those bills are unlikely to do more to prevent violent crime.
• A Republican operative was seeking Hillary Clinton's emails in forums with Russian hackers, the Wall Street Journal wrote. He indicated in the email he would funnel them to Michael Flynn, the former national security adviser under investigation for ties to Russia.