'Zelda: Breath of the Wild' Master Trials DLC: How long is the Trial of the Sword?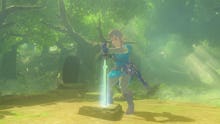 The Master Trials DLC for The Legend of Zelda: Breath of the Wild has, as of the time of writing, not even been out for 24 hours. The key draw of the DLC is Trial of the Sword, a new mode that tasks you with going through 45 battle rooms across three tiers of difficulty, with the stipulation that you don't get to bring in any of the gear you've accumulated throughout the main game.
If you did the excellent Eventide Island side quest in Breath of the Wild, it's basically a lot more of that. Sounds kind of tough, right? Well, according to Eurogamer, someone has already finished it.
Zelda: Breath of the Wild Master Trials DLC: YouTuber has already finished Trial of the Sword
The hero of the day is YouTuber AbdallahSmash026, who streamed his playthrough shortly after the DLC launched. You can find his playthrough above, which is four and a half hours long. Yeah, it's a lot.
As Nintendo had previously announced, your reward for finishing Trial of the Sword is a powerup to the Master Sword that permanently doubles its damage from 30 to 60. Normally, it only goes up to 60 in dungeons or in the presence of Guardians. It will still be unbreakable, and with the damage boost, it'll be damn near the best one-handed weapon in the game.
Trial of the Sword seems fun, but you better be at the top of your game if you want to do what AbdallahSmash026 did. Have fun, folks.
More Zelda: Breath of the Wild tips, tricks and guides
Find out all there is to know about Zelda: Breath of the Wild, including what to expect from the Wii U version, how to preserve your items, how to beat bosses like the Stone Talus and Lynel, the best recipes for Link and how to take on the game's shrines. You'll also want to find out where all the great fairies in the game and how to use amiibo with your version of Zelda.