Eric Benét claps back at Jay-Z over that "Kill Jay Z" line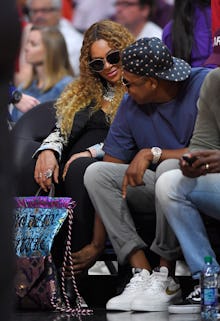 Jay-Z's 13th solo album, 4:44, is filled with financial, spiritual and emotional wisdom. One of the MC's first offerings? "Never go Eric Benét."
The line comes in the very first track, "Kill Jay Z," as the Bed-Stuy rapper is beginning to reflect on his supposed infidelity to his wife Beyoncé, which the superpowered pop star detailed on her 2016 album Lemonade. Instead of naming the sin outright, Jay describes what he "almost" did as "going Eric Benét."
You almost went Eric Benét
Benét, though, wasn't down to let Jay-Z drag up his past without getting a word in. The R&B singer, infamous for the rumors of cheating and sex addiction that followed his split with his now-ex-wife Halle Berry, let the Twitter fingers fly in the early morning on Friday.
"Hey yo #Jayz!" he wrote. "Just so ya know, I got the baddest girl in the world as my wife....like right now!"
Benét has denied ever cheating on Berry. He did go to rehab to try to save his marriage, but insisted to People in 2005 that he is not "a sex addict." The singer is currently married to Prince's ex-wife, Manuela Testolini. They welcomed their second child in July 2014.
"My family is my everything," Benét told E! News in 2015, sharing a Valentine's Day family portrait. "As we continue to grow as a unit, it's so important to document these special moments in life, so for Valentine's Day, I wanted to give my wife and family a picture that captures our pure happiness."
Jay-Z's rhyme might be a bit out of date then, or perhaps Benét's story offers a glimmer of hope for the embattled MC. If Beyoncé ever changes her mind on that whole forgiveness thing, happiness won't necessarily stay elusive forever.
Mic has ongoing music coverage. Follow our main music hub here.