'Overwatch' D.Va Statue Preorder: Price, expected delivery date and how to buy it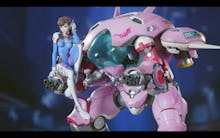 Well, Charlet Chung was right about a surprise incoming for everyone's favorite Overwatch gamer girl. That's right, fellow Overwatch fans: we have a D.Va MEKA premium statue coming our way. It carries a serious price tag, but after watching the trailer that Blizzard dropped last night, I can't be mad.
D.Va joins Tracer, Reaper and Widowmaker in premium Overwatch statue territory. And if you've got the extra room in your budget, you can preorder this exquisite Overwatch collectible right now.
Overwatch D.Va Statue: We're looking at $450 and delivery by the end of 2017
D.Va's statue is expensive, even in the realm of pricey collectibles. Tracer, Widowmaker and Reaper are all $150, which is fairly reasonable for high-quality collectibles. But D.Va and her bubblegum pink MEKA stand at 19" tall, understandably towering over the other Overwatch premium statues.
Not only does D.Va dwarf her fellow Overwatch heroes, this is an exceptionally detail-oriented statue. According to the trailer, D.Va's statue is painted by hand. Every detail is meticulously painted by an artist. No wonder D.Va commands such a hefty price tag.
You can preorder D.Va and her MEKA from the official Blizzard store and expect to receive her by the end of the year.
More Overwatch news and updates
For more on Overwatch, check out the rest of what Mic has to offer. Here is an intro to the cute, new "Wholesome Overwatch" subreddit, a look at some gorgeous Overwatch-themed PS4 and Xbox One controllers, a cool Easter Egg in the new Horizon Lunar Colony map and a criticism of Blizzard's failures in its design of Symmetra.