Trump once tweeted he'd "send in the feds" to fight Chicago gun violence. Now it's happening.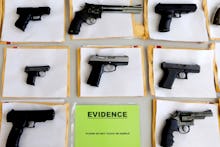 When President Donald Trump tweeted in January that he'd "send in the feds!" to intervene if Chicago was unable to curb its gun violence, it was unclear what he meant.
Now we know.
On Thursday, authorities confirmed that around 20 additional Alcohol, Tobacco, Firearms and Explosives agents had been dispatched to the city. The new agents will join the roughly 35 to 40 ATF agents who are already there as part of an initiative formulated in November, when former President Barack Obama was still in office.
"We've been doing this all along but now it's being amped up," said Dave Coulson, a spokesman for ATF in Chicago, according to the Chicago Sun-Times. "It's a more concerted effort."
According to the Sun-Times, the ATF agents are partnering with the Chicago Police Department and Illinois State Police to solve gun homicides and track down gun traffickers using ballistics technology. The strike force will have at its disposal ATF's vast digital intelligence database — known as the National Integrated Ballistics Information Network — which includes a large catalogue of fingerprints, bullets and shell casings that can be processed rapidly in a "specially equipped mobile van."
The strike force is intended as a long-term intervention in the city, as opposed to previous federal incursions, which lasted only a few months at a time. It has generated promising leads so far, reports say. One gun in particular has been linked to 28 separate shootings, according to the Sun-Times. DNAInfo Chicago reports that 305 people have been shot and killed in the city in 2017 so far. In 2016, firearms were responsible for 675 of the 751 recorded killings. The high death toll has made Chicago a convenient illustration of Trump's notion that the United States is becoming a crime-fueled hellhole.
Trump's response to the violence has been to advocate for more intense law enforcement crackdowns on residents. At different points, he has said Chicago would solve all its crime problems by letting police get "very much tougher" than they are now, and called for "stop-and-frisk" policies — in which police are able to stop and search anyone they deem suspicious — to be enforced in black communities across the nation.
Never mind that the Chicago Police Department has earned a reputation as one of the most brutal and racist in the United States. In January, the U.S. Department of Justice published the results of its investigation into the department, and found that officers engaged in widespread "racially discriminatory conduct" and a "pattern or practice of unreasonable force."