Jay-Z's '4:44' apology: A breakdown of the rapper's response to Beyoncé's 'Lemonade'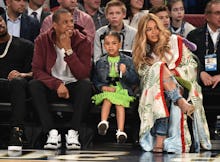 Last year, Beyoncé broke the internet by grabbing her husband Shawn "Jay-Z" Carter by the lemons and making Lemonade out of him. She gave him the 12-track "Ether" treatment, using a story of his alleged infidelities as a jumping-off point to craft her sixth studio album (and second visual album), Lemonade. The record became an instant cultural touchstone and inspired discussions of female resilience, the burdens of history and the importance of black authorship.
Fourteen months later, Jay-Z has finally shared his side of the story, and it largely confirms much of what Bey alleged on her 2016 opus.
On Friday, Jay released 4:44, his 13th studio album, and perhaps his rawest, most confessional and self-critical record to date. There is no one track that responds to Lemonade. The rapper's apology is spread across three of the LP's key tracks, and it plays out like a three-part surgical procedure: There's an opening incision, a full examination of the soul and a suturing that broadens Jay's view back out to a larger cultural critique.
What follows is a breakdown of Jay-Z's atonement, a look at every lyrical nod to the past behaviors that almost cost Jay his marriage.
Cry Jay Z, we know the pain is real
The opening lines of 4:44's first track, "Kill Jay Z," serve as the MC's invocation — his "Dear Diary..." if you will. He pledges to shed the bravado and machismo he's worn like "armor" the past few years; he wants to level with his audience and relate to them as a person.
You egged Solange on
A reference to the infamous elevator fight at the 2014 Met Gala, in which a video camera caught Beyoncé's sister Solange Knowkles wailing on the former Bed-Stuy dealer. Rumors have held that it was a scrap over Jay's supposed infidelities. The rapper's mention suggests those theories may have been on point.
You almost went Eric Benét
Instead of saying the words "cheating" or "adultery" outright, Jay-Z describes his actions as "going Eric Benét," name-dropping the R&B singer infamous for supposedly cheating on his now ex-wife, Oscar-winning actress Halle Berry. Jay-Z nods to a line from Lemonade in the process: "Never had the baddest woman in the game up in your sheets," which Bey sings on "Hold Up."
Look, I apologize, often womanize
The album's spiritual center and title track, this song offers the most blatant apology to his wife for all the ways he's wronged her. In an interview published by iHeartRadio, Jay said that the inspiration for this song occurred to him suddenly, when he woke up in the middle of the night — at 4:44 a.m. — with this track floating in his head. On the track, he credits Blue Ivy, his oldest daughter with Beyoncé, as moving him to change his ways.
Said: "Don't embarrass me," instead of "Be mine"
The 47-year-old MC winds all the way back to the beginning of his relationship with Beyoncé, to her 21st birthday when he asked her to "go steady" by saying, "Don't embarrass me." The line starts a series of apologies — for their "stillborns," for "fall[ing] short of what I say I'm all about," for leaving his wife "thinkin' of all the time you wasted in on all this basic shit."
Like the men before me, I cut off my nose to spite my face
Here, Jay appears to say that he shared a secret with another woman and kept it from his "soulmate," as he describes Beyoncé later in the song.
And if my children knew, I don't even know what I would do
Jay-Z has succeeding in doing the seemingly impossible by rising from a Marcy Project hustler to one of the most powerful men in hip-hop. But where poverty, violence or police failed to suppress his drive, the rapper reveals what might finally break him: losing his children's respect. That, if it ever comes to pass, is what might actually "Kill Jay Z."
Yeah, I'll fuck up a good thing if you let me
Becky with the good hair is back. Beyoncé uses the name to refer to her husband's illicit lover during a particularly venomous moment on her song "Sorry." (It's likely a catch-all rather than the actual name of a specific person.) Here, Jay asks "Becky" to let him alone so he can return to his work mending his family's broken trust.
I'll watch 'Godfather,' I miss that whole shit
The Roc-A-Fella mogul uses a Godfather reference to describe the situation he found himself in after Lemonade's release, watching the rumors swirl about the situation between him and his wife. In Jay's eyes, the enraged fans and pundits who took shots at him for hurting Beyoncé resembled the hitmen who came for Michael Corleone in 1974's The Godfather Part II. Both men survive their attacks, but while Corleone's family ends up scattered and broken by the movie's end, Jay-Z pledges himself to healing and uplifting his own. Because "nobody wins when the family feuds."
Mic has ongoing music coverage. Follow our main music hub here.