Seattle student fatally shot by police and 9 other stories you need to know this week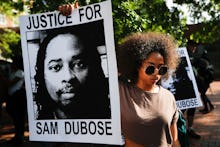 From the the 14th killing of a trans woman of color in 2017 to charges against officers involved in the Laquan McDonald shooting case, here is a roundup of some of the recent developments in the social justice movement.
Judge declares mistrial for the officer who fatally shot Samuel DuBose
June 23: In 2015, Ray Tensing, a former University of Cincinnati police officer, fatally shot Samuel DuBose during a traffic stop. In a recent trial, the judge declared a mistrial after the jury was unable to reach a consensus.
Burned Quran stuffed with bacon found outside a mosque
June 24: On Saturday, a burned Quran stuffed with bacon was found hanging outside of a Sacramento, California, mosque. The Sacramento County Sheriff's Office is currently investigating the incident as a hate crime.
Off-duty officer threatens to kill black teen on video
June 24: On Saturday, an off-duty cop assaulted 15-year-old Jordan Brunson for allegedly trespassing in his yard. In a video taken by Brunson's friend, the officer says, "You came into my fucking property, I'mma fucking kill you." The incident is now under investigation by the Lansing Police Department.
17-year-old transgender girl killed in Georgia
June 25: On Sunday morning, Ava Le'Ray Barrin, a black transgender girl, was shot during an altercation with an acquaintance. She later died in the hospital, making her the 14th reported killing of a transgender woman of color in 2017.
Philando Castile's family reaches a settlement with Minnesota police
June 26: Following the acquittal of Jeronimo Yanez, the ex-officer who fatally shot Philando Castile, the family of the victim settled in court for $3 million. According to the family's attorney, this decision allowed the city of St. Anthony, Minnesota, to avoid a federal wrongful death lawsuit.
Another sign in honor of Emmett Till's murder found vandalized
June 26: On Tuesday, a sign in Money, Mississippi, marking where Emmett Till first encountered his killers was vandalized. The unidentified suspects erased the inscriptions on the sign. It is currently unclear if the city has a plan to repair the sign, but there is a fundraiser to help fix it.
Chicago officers charged with conspiracy in relation to the Laquan McDonald shooting
June 27: Three Chicago police officers have been charged in connection to the coverup following the 2014 death of black teen Laquan McDonald. Detective David March and patrolmen Joseph Walsh and Thomas Gaffney were charged with conspiracy, official misconduct and obstruction of justice.
Alton Sterling's children sue city for the fatal shooting of their father
June 27: Alton Sterling was fatally shot by police in Baton Rouge, Louisiana, on July 5. Now his children are suing the city alleging that this shooting mirrors a pattern of racist conduct and excessive force by Baton Rouge police.
Seattle teen fatally shot hours before his high-school graduation
June 28: King County Sheriff's officers fatally shot teen Tommy Le after reports that he was harassing people with a knife. A week later, however, King County Sheriff's Office officials released a statement indicating that Le was in fact holding a pen, not a weapon. The incident happened hours before Le's high-school graduation.
Hate crime reports might be on the rise, but more than 50% still go unreported
June 29: According to a report released by the Department of Justice on Thursday, the amount of unreported hate crimes has decreased by 10 percentage points since 2011. However, 54% of these crimes still go unreported.