The 13 best TV episodes of 2017 (so far)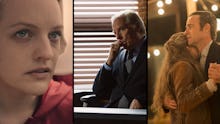 We're currently living in another golden age of television — there's so much good TV right now that you could remove yourself from society, hole up in a bunker (à la Andy Samberg in his opening bit to the 2015 Emmys), keep yourself glued to the small screen for months on end and you still might not get completely caught up. So it's no shocker that the first half of 2017 has welcomed some compelling new series, emotionally wrenching finales and more than a few Emmy-worthy performances. In short, it's been a great year for TV lovers — and we haven't even seen the newest season of Game of Thrones yet.
Now that we're at 2017's halfway point, we figured it's a fitting time to take stock of all the TV that's aired. So we've rounded up and ranked the 13 best episodes of 2017 so far.
13. Legion, "Chapter 6" (Season 1, Episode 6)
This episode of creator Noah Hawley's psychedelic, X-Men-adjacent series technically goes nowhere; the main characters are literally frozen in time. But it's in the midst of this narrative stasis that Aubrey Plaza puts in her finest work as the show's villain, Lenny, aka the Devil With Yellow Eyes, aka the Shadow King, aka the psychic parasite that's been haunting protagonist David Haller since his childhood.
In a performance that feels like it's actually a dozen different roles, Plaza is at her most terrifying while tormenting the other characters in a faux reality, posing as a therapist. She revels in their sorrow and confusion, and in a scene sure to garner Emmy consideration, gyrates around David's body as she reveals her true, parasitic self. It's terrific, terrifying stuff. (The hour gets bonus points for the above set piece, in which Plaza dances to a remix of Nina Simone's classic "Feeling Good.")
12. The Young Pope, "Episode 9" (Season 1, Episode 9)
While I enjoy trolling HBO's The Young Pope and luxuriating myself in the show's memes, I will admit it produced some powerful episodes of television in the second half of the season. None were better than the penultimate episode, which sees the culmination of Monsignor Gutierrez's investigation into a child abuse scandal in New York and the death of Pope Pius XIII's mentor, Cardinal Spencer. Gutierrez overcomes his own shortcomings as a lonely, depressed alcoholic to bring justice to the children abused by a powerful archbishop, while Pius shares a tender farewell with the mentor who scorned him most of the season for being vindictive and petty. Gutierrez and Pius, both afflicted by profound alienation, become better versions of themselves by season's end.
The memes were plentiful and the bizarre story flourishes — the kangaroo hopping through the Vatican, the LMFAO-soundtracked changing montage — are truly bizarre, but ultimately The Young Pope proved itself to be a series with a lot of heart. God bless this show.
11. The Americans, "Dyatkovo" (Season five, Episode 11)
The Americans, the spy drama critics will harass you about incessantly for not watching, underwhelmed in a fifth season that was exceptionally sluggish considering this series will be heading into its final stretch in 2018. But it still produced powerful, resonant and incredibly depressing moments, reaching its apex in "Dyatkovo." The Jennings are tasked with assassinating a Russian war criminal (just another day at the office), but the target reveals a far more disturbing truth behind her crimes — that she was liquored up, threatened and assaulted by soldiers and forced to shoot her countrymen in order to stay alive herself. After hearing her explanation, and once her innocent husband returns home in the middle of the assassination attempt, Philip hits a wall and refuses to pull the trigger. Elizabeth eventually does on both, but with a rare instance of anguish.
It's a devastating turning point for the Jennings, who enter season six with dwindling faith for their cause. This past season may have been a bit of a letdown, but make no mistake: The Americans is still one of TV's best dramas.
10. The Leftovers, "It's a Matt, Matt, Matt, Matt World" (Season 3, Episode 5)
On The Leftovers, characters are constantly reconciling and reassessing their faith. And Matt Jamison, a reverend in a world where 2% of Earth's population has mysteriously vanished, is no different. In each of the drama's three seasons, Matt's been the centerpiece of a (typically depressing) standalone episode. But in the third season, his crisis of faith takes place on a lion-themed sex ferry — a nice touch of levity — as he has a conversation with a man claiming to be God. It's bleak and strange in a way that's unique to The Leftovers, with "God" wearing a Trumpian red baseball cap while offering apathy to Matt's plight along with a simple explanation as to why the Departure happened: "Because I could."
Matt's faith meets its most difficult test, and by the end of the episode, he's accepted that the cancer he survived in his childhood has returned and that he's probably going to die because of it. For a man constantly driven by his ego, the realization is about as devastating as the literal apocalypse that looms over the final season.
9. The Expanse, "Home" (Season 2, Episode 5)
Few shows on television reach the massive scale of The Expanse, a space opera spanning the entire solar system. Thus, few episodes of TV have higher stakes than "Home," which sees a sentient asteroid station hurtling toward Earth, threatening to wipe out most of the population. For The Expanse, a show that's often compared to Game of Thrones for its sprawling narrative, "Home" is its Ned Stark moment.
Detective Joe Miller, the afflicted main character of the series, sacrifices himself and convinces the asteroid, which is being controlled by a mutant version of the woman he was enamored with (non-watchers: It's a long story...), to crash-land on Venus instead. It's a shocking death, and a true hero's sendoff. If you haven't been watching The Expanse, you should: It's the best thing Syfy's put on the air since Battlestar Galactica.
8. Master of None, "New York, I Love You" (Season 2, Episode 6)
The high points of Master of None's terrific second season have nothing to do with Aziz Ansari's Dev, but rather, when the show zooms out and shines the spotlight on other characters — like Denise's family in the flashback-filled Thanksgiving episode or Dev's parents in the installment focused on their religious faith.
But the season's standout episode, "New York, I Love You," is completely disparate from Master of None's already nonlinear narrative. Instead of following Dev or his circle of friends and romantic interests, we're thrust into the lives of three random New Yorkers — a doorman, a deaf bodega cashier and a cab driver — who are ultimately tied together by a fictional Nicolas Cage film. It gives the feeling, which series co-creator Alan Yang described to me, that anyone can be the star of their own show.
7. Twin Peaks: The Return, "Part 8" (Season 3, Episode 8)
It's a cliche to compliment a show by saying it's "unlike anything else on television." But if there's one episode of TV from 2017 that merits that claim, it's "Part 8" of the Twin Peaks revival. With it, David Lynch orchestrated an episode that's technically an origin story for the creation of BOB, which is a rather conventional storytelling device — but he does so in the most Lynchian way possible. In other words: It's completely batshit.
What happens? Let's see. We see the first nuclear bomb test in New Mexico in 1945 — when BOB was ostensibly created, giving new meaning to one of the series oft-repeated phrases, "fire walk with me," since he was birthed in the fiery chaos of the nuclear age. The Giant witnesses the birth of BOB and creates a luminescent orb with the face of Laura Palmer, perhaps as a counter-measure to BOB's evil. The "Experiment," the creature that birthed BOB, lays an egg in New Mexico that hatches 11 years later, revealing a nightmarish insectile creature that crawls inside the mouth of a teenage girl. Soot-covered men roam the desert, with one crushing the skulls of two radio station workers and broadcasting a message that causes people to pass out and potentially die. The message: "This is the water, and this is the well. Drink full, and descend. The horse is the white of the eye but black within." No, I do not have any idea what it means. Roll credits.
It's good to have Twin Peaks back. I need an aspirin.
6. The Handmaid's Tale, "Offred" (Season 1, Episode 1)
Premieres for new shows have to pull off a heavy lift; they need to set up the show's entire world, introduce main characters and hook audiences strongly enough that they want to keep tuning in. That's part of the reason Hulu's The Handmaid's Tale is so effective from the onset: It barely skips a beat as we're thrust into the Republic of Gilead, an oppressive regime subjugating women, and meet our "Handmaid" — the designation given to the few fertile women in Gilead — Offred.
It's a chilling episode, juxtaposing the claustrophobic confines of Gilead's suburbia with Offred's previous life as the happily married June. If there's any justice to be had at awards shows, Elisabeth Moss will finally be rewarded with an Emmy statue this fall.
5. Fargo, "Who Rules the Land of Denial?" (Season 3, Episode 8)
The third season of Fargo is arguably the weakest, but there's no shame in finishing with the bronze in this respect — the first two years of Noah Hawley's anthology crime series are all-time great seasons of television. Still, the pinnacle of this new season absolutely belongs in the conversation of 2017's most thrilling episodes of TV. Ambitious even by Fargo's high standards, the eighth installment is sinister and surreal as it plunges several characters into the heart of the Minnesota woods. Nikki Swango and season one's Wes Wrench are being hunted by V.M. Varga's hitmen, and eventually make it to what may be purgatory, presented here as a nearly empty bowling alley occupied by a never-before-seen bartender and a mysterious character played by the inimitable Ray Wise.
Wise, a Twin Peaks alum, devours up the scenery with a mystical, mysterious and alluring role that could very well be that of God, the devil or an angel of death; seated in that bowling alley, he gives the ruthless Cossack, Yuri Gurka, cosmic justice at the hands of slaughtered Jews. It's confounding and compelling; it's Fargo at its finest.
4. Big Little Lies, "You Get What You Need" (Season 1, Episode 7)
The cathartic series finale of Big Little Lies answers the two questions posed at the beginning of the show: Who was killed on trivia night and who's responsible? But the murder mystery was just the window dressing to a show that explored the intimacies of marriage, loneliness, abuse and wealth.
It all comes to a head in "You Get What You Need," when it's revealed that Celeste's abusive husband, Perry, raped Jane, a newcomer to Monterey still tormented by their fateful night years before. When Perry attacks Celeste, the female leads band together and, in a moment of self-defense, kill the serial abuser. It's a moving exercise in the power of femininity and a terrific cap on a series so beloved it left some clamoring for a second season (but please stop).
3. Dear White People, "Chapter V" (Season one, Episode 5)
Earlier this year, Mic's Kevin O'Keeffe praised Dear White People's fifth episode, writing: "As directed by Barry Jenkins, [the episode] is a character study of a rebel who's forgotten how to do anything else. It's a loose, fun exploration of multiple facets of black representation in pop culture, from Tyler Perry-esque movies to Iyanla: Fix My Life. But most of all, Jenkins' episode is a tense meditation on the everyday threat of police brutality and exactly how damaging one white person's decision can be to black people's lives."
2. Better Call Saul, "Chicanery" (Season 3, Episode 5)
The Shakespearian sibling feud between Jimmy and Chuck McGill moves to the courtroom in "Chicanery," as Chuck tries to get Jimmy disbarred. The case ends up destroying them both. Jimmy is technically victorious in court, proving that Chuck's aversion to electricity isn't a physical symptom but rather a mental illness, potentially dashing Chuck's hopes to someday practice law again. It's a major step in Jimmy's inevitable transformation into the slimy Saul Goodman of Breaking Bad.
As great as series star Bob Odenkirk is, enough can't be said about Michael McKean's work as Chuck. McKean's at his most devastating in this episode's closing moments as he goes on a winding, heated rant about Jimmy that leaves everyone in court agape. The most tragic part: Chuck is seriously ill, and yet every outlandish thing he says about his brother is true.
1. The Leftovers, "The Book of Nora" (Season 3, Episode 8)
One of the greatest shows in modern television history wraps up perfectly by remaining ambiguous to the very end. That's really the only way The Leftovers — a show that never attempts to answer its central mystery — should conclude. It's an anti-Lost sort of show born from the mind of one of Lost's creators.
Should the viewer believe that Nora really traveled to an alternate world, where the 2% of the populace that vanished live out their days? Maybe, maybe not. It doesn't really matter if the audience believes her; all that matters is that Kevin believes her, so they can rekindle their tragic romance. It's a brilliant and appropriate note for the show to close on. In its final moments, the show clarifies that despite all the tear-inducing grief, this has been a love story all along. I miss The Leftovers already.
Mic has ongoing television coverage. Follow our main TV hub here.