French authorities charge Marine Le Pen over misuse of EU funds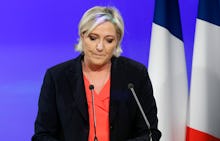 Marine Le Pen, the leader of France's far-right National Front party, has been placed under formal investigation over the alleged misuse of European Union funds, the BBC reported.
The allegations contend that Le Pen and the National Front used funds from the European Parliament, the EU's legislative body, to pay party staff members, according to Agence France-Presse. Five million euro ($5.4 million) in parliament funds was allegedly paid to about 40 party staffers beginning in 2012, who were not working for members of the European Parliament but rather on party issues.
Le Pen herself was accused as far back as January of having two assistants, Thierry Légier and Catherine Griset, who were paid using European Parliament funds while carrying out non-parliament work, Politico reported. The politician has already been sanctioned by the European Parliament over funding, and a formal investigation will establish whether or not the sanctions are warranted, according to Reuters.
An official investigation was also opened against the National Front party in January, Politico noted. Though Griset was placed under formal investigation in February over the funding scandal, Reuters reported, Le Pen had previously argued that she had immunity as a European lawmaker. But in March, the European Parliament officially lifted Le Pen's immunity over an unrelated incident in which she posted photos of Islamic State violence on social media.
Le Pen has denied the funding allegations and contends that the charges against her are politically motivated, the BBC noted.