New law in Germany requires social media sites to remove hate speech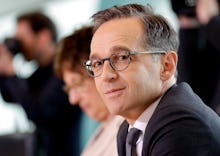 Under a new law passed in Germany, Facebook and other social media platforms may have to pay millions of dollars for failing to remove hate speech from their sites.
The law, passed Friday, requires any social media company with more than 2 million German users to censor all posts that incite racism, defamation, violence or other "obviously illegal" content, the New York Times reported. This includes any false, slanderous "fake news" reports published by users claiming to represent legitimate news sources.
If Facebook, Twitter, Google and other social media sites fail to delete such hate speech within 24 hours, they will face a fine of €5 million, or $5.7 million, according to the Verge. If the offensive content is not gone within a week, the companies could be charged up to €50 million, or $57 million. In cases where it's unclear whether or not the content of a post violates the new regulations, sites have up to a week to make a decision.
The law goes into effect in October.
The legislation expands Germany's existing hate speech laws, which are already considered tougher than other countries. The country has long held laws banning Nazi symbols and Holocaust denial.
According to the Times, Germany had previously set a national goal to remove 70% of online hate speech within 24 hours of seeing it. While almost all offensive content was deleted from the web eventually, the Times reported that Facebook only censored 39% of hateful posts within one day, and Twitter made the mark just 1% of the time.
Facebook claims to be working to actively address and remove hate speech on its platform worldwide, hiring another 3,000 people to review offensive posts on top of their current 4,500. But in a statement provided to the Associated Press, the company said the new law "will not improve efforts to tackle this important societal problem."
Free speech organizations and digital rights groups have expressed similar criticism of the bill. In a blog post, digital freedom group EDRi wrote that the law "could seriously impair human rights online, including freedom of expression and opinion."
But for Justice Minister Heiko Maas, who led the movement for the bill's passage, the law represents equality and safety.
"With this law, we put an end to the verbal law of the jungle on the internet and protect the freedom of expression for all," Maas told the Times. "We are ensuring that everyone can express their opinion freely, without being insulted or threatened."