Jeff Sessions says DOJ will review trend of anti-transgender violence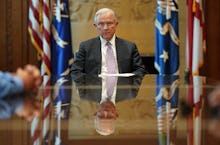 Attorney General Jeff Sessions said the FBI and Justice Department are reviewing the rise in murders of transgender victims, USA Today reported on Thursday. But advocates are reacting cautiously to the news that federal authorities are considering intervening in the investigations of the killings.
"I specifically directed that the files of these cases be reviewed to ensure that there is no single person or group behind these murders or to what extent hate crime motivation lies behind such murders," Sessions said on Thursday, speaking at a national conference on hate crimes.
Advocates say they're concerned that Sessions might co-opt the crisis of anti-trans violence for a different agenda.
"We won't allow Jeff Sessions to use the violence perpetrated against LGBTQ people, and particularly the homicides of transgender women of color, to push forward a pro-policing agenda that does not acknowledge, recognize, or protect LGBTQ people of color who are victims of police violence and brutality," Emily Waters, senior manager of national research and policy at the New York City Anti-Violence Project, said in an email to Mic on Friday.
On Sunday, 17-year-old Ava Le'Ray Barrin was shot and killed in Athens, Georgia — the 14th reported killing of a trans woman of color so far this year.
Between 2010 and 2016, at least 111 transgender and gender-nonconforming people were killed in the U.S. because of their gender identities. And the number of reported murders of transgender victims is on the rise: According to GLAAD, 2016 was the deadliest year on record for trans people, overtaking the year before it.
Sessions' acknowledgment of the violence directed at transgender people was reportedly prompted by a letter sent by six Democratic officials in March, calling on the Justice Department to take action.
In an email on Friday, Human Rights Campaign Senior Senior Vice President for Policy and Political Affairs JoDee Winterhof told Mic that calling for a review of transgender killings is "the bare minimum" that Sessions can do.
"After building a career full of hostility towards LGBTQ people, Jeff Sessions now says he wants to protect transgender people from discrimination and violence," Winterhof said.
"If he is serious, he must order the DOJ to enhance its efforts to investigate, prosecute and deter the violent hate crimes perpetrated against transgender people — especially transgender women of color."