'WWE 2K18' Preorder Bonus: Kurt Angle announced for PS4 and Xbox One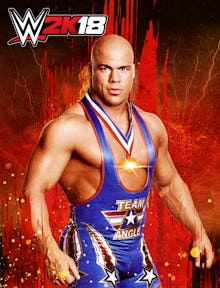 In a surprise on June 30, Kurt Angle was confirmed as the pre-order bonus for WWE 2K18 for PlayStation 4 and Xbox One. The announcement wasn't supposed to happen until July, but Angle mistakenly spilled the beans on his official Twitter account.
A few hours later, WWE Games confirmed the news and circulated the full details of the pre-order offer.
At least Angle didn't share the preorder trailer. That is still set to debut on the July 10 episode of Monday Night Raw.
WWE 2K18 Preorder: Everything we know about Kurt Angle's bonus
Angle, who was recently inducted into the WWE Hall of Fame, returned to the promotion as the Monday Night Raw general manager in April. Angle has yet to return to the ring, but fans who preorder the game will have access to him in two different personas.
The WWE Olympic Hero gimmick and the ECW Wrestling Machine attire will both be playable. Angle had this to say, via press release sent to Mic.
I was thrilled to return to WWE earlier this year, be honored as a WWE Hall of Fame inductee and find a new home with the best in the business every Monday night as the 'Raw' general manager. And now, I get to follow in the footsteps of many incredible names, like Bill Goldberg, Sting, Ultimate Warrior and Arnold Schwarzenegger, and be featured as the 'WWE 2K18' pre-order character.
It's true, the WWE 2K franchise has reserved the preorder bonus spot for the biggest Superstars who have been associated with their brand. Angle is the latest and one fans will almost certainly accept with open arms.
"Kurt Angle has been the most fan-requested Superstar in the WWE 2K franchise for some time now, so it's a pleasure to celebrate his popularity and incredible career through this year's WWE 2K18 pre-order offer," Chris Snyder, vice president of marketing at 2K, said. "His WWE and amateur wrestling achievements are also a perfect fit to help carry the torch for this year's 'Be Like No One' worldwide marketing campaign. There's no question Kurt succeeds on his own terms in everything he does."
WWE 2K18 will hit stores on Oct. 17 with early access consumers receiving their copies as soon as Oct. 13. Stay tuned for more information as it becomes available.
More sports gaming news and updates
Love sports games? Check out more content from Mic, including tips for leveling up your MLB The Show RTTS player, the new story mode in Madden 18, a wish for the WWE 2K18 release and a detailed sports video game release calendar.