Small town, big pride: Boise, Idaho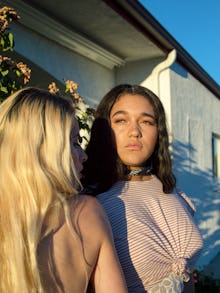 Boise, Id. — Residents of Boise, Idaho, will tell you there are many reasons to love their city: It's tranquil and urbane, surrounded on all sides by an endless supply of spectacular nature. Its nickname is Tree City, and the word "Boise" itself most likely derives from the French for "woods," fitting for its quiet, bucolic charm and beautiful old-growth trees. The city is neighborly, full of convivial bars, restaurants, cafes, shops and many neighborhoods where it's common for residents to rarely lock their doors.
In some ways, the annual Boise Pride celebration reflects that promise of an idyllic lifestyle. At Pridefest, I met one particularly inspiring group of high schoolers, none of whom identified in exactly the same way, from straight to queer and otherwise: the intelligent and empowered Freya; Nola, a sharp athlete who hopes to become a physical therapist; Sarah, a pleasant transplant from upstate New York; Daphne, a jokester with Puerto Rican roots; and thoughtful, artistic, pink-haired Cody. A few of them met for the first time at Pride, where they quickly became friends. Their anti-clique mindset and already expansive identities demonstrate a hopeful openness that bodes well for Boise's future.
"We have to keep celebrating our individuality and identity until it's a no-brainer that queer people should not face any form of intolerance, discrimination, harassment or violence under any circumstances." —Freya Lefler
"My advice to someone who might be scared of coming out: You might lose a few friends, but you gain an entire community." —Cody Wilder
The city can presently be deemed a resilient, hopeful and even welcoming place for the LGBTQ community. This year's Mr. Gay Idaho, Rameses, moved to town for a fresh start after his boyfriend died in the devastating Pulse nightclub shooting in Orlando. I met at least a dozen LGBTQ people who have relocated from cities that outwardly seem more gay-friendly, like Boston and Seattle — because, they say, Boise is a place that inspires love, reflected in the many couples in town who have been out together in the city for decades.
I met grandmothers and allies Jennie Rylee and Gretchen Reynolds, volunteer activists with big love for their grandchildren. Sally Shoe, a mother and ally who spearheaded an initiative to help her employer become a major sponsor of Boise Pridefest, is working to make Idaho a safer, more opportune place for other people I came across — like Andreja and Deija, two aspiring young models with no shortage of positive energy.
Still, despite its liberal veneer, Boise is the civic and cultural center of a deeply conservative state, one in which most public opinion remains at odds with LGBTQ causes. Idaho's progress toward LGBTQ rights has been a slow, uphill march. Activists in the state have had to rely on a few small but symbolic victories for hope, the most visible of which has been the hard-won right to illuminate the state's capitol building — Boise's architectural centerpiece — in rainbow during annual Pride festivities.
Elsewhere in the city, the grand old tree-lined Harrison Boulevard was decked out in rainbow flags for the first time this month. These two joyful gestures, which would seem tiny even in the context of medium-sized cities like Pittsburgh, Minneapolis or Denver, illustrate the ongoing fight for basic LGBTQ visibility — something easily taken for granted elsewhere in the country.
Beyond the symbolic, though, there continues to be very real policy issues at stake. Even before marriage equality was legalized nationally in 2015, the Idaho LGBTQ communities' signature, unifying issue has been a push to amend Idaho's Human Rights Act to add four words — "gender identity" and "sexual preference" — to extend a modicum of protections to LGBTQ individuals in the workplace, schools and elsewhere around the state. The long-running Add the Words initiative has become a focal point for progressive Idahoans, including Nicole LeFavour, the first-ever out gay member of the Idaho legislature who has been at the center of the fight in recent years.
LeFavour represented parts of Boise between 2004 and 2012, first in the state House and then its Senate. She has also been a force on the ground: She was among roughly 120 protesters arrested between 2014 and 2015 for blockading entrances to the state capitol in a silent protest against a legislature that refused to vote on the aforementioned amendment to Idaho's Human Rights Act. Despite the efforts of LeFavour and her allies, the four words have not been added to the Idaho Constitution as of the 2017 legislative session that adjourned in March.
Indeed, Idaho remains the westernmost state in a contiguous swath of states extending all the way to Florida that have not officially added these most basic LGBTQ protections to their state constitutions.
Joe Kibbe, a Boise LGBTQ activist involved with the initiatives LeFavour spearheaded, plans to keep up the fight by running for local office in the near future. "I have led arrest actions, been arrested and have been to jail, completed hundreds of hours of community service and would do so all over again if needed," he said.
That same spirit of righteous resistance can be found in some of the city's ordinary citizens. Karen Kelly and her husband, Bruce Ballenger, self-described progressives active in a number of local causes, live on a street of stately houses west of downtown. On the Sunday morning before Pride, Kelly went to check for the newspaper when she discovered the Pride flag they put out every June had been set on fire. Though it was anchored directly beneath the wooden eaves of their house, it burnt out quickly and spared any further damage.
"The more we show people that the LGBTQ community are their friends and neighbors, the sooner everyone will be treated like friends and neighbors." —Karen Kelley
Later that week, Kelly spotted the person she believes responsible for burning the flag, draped in a Confederate banner and "packing heat," she said. Despite the apparent attempt at intimidation, Kelly and Ballenger refused to take their flag down. Instead, they've left it up, burnt edges and all. In a show of solidarity, several of their neighbors have raised flags on their own homes, too.
Taken together with the high-schoolers in the park who represent a generation of well-connected and inspiringly tolerant youth, that spirit of community and mutual support may be what gives the city a big head start on true progress. After all, equality certainly has a pretty good shot in the sort of town where neighbors proudly display flags in the name of love, peace and tolerance.
Boise, Idaho — Population 223,000
Boise is by far the largest city in Idaho, with a population that has nearly doubled since the early 1990s. While that makes it one of the three largest cities in the Pacific Northwest, it remains a relatively small town in the American scheme of things — about the size of Madison, Wisconsin, or Colorado Springs, Colorado. New transplants come to Boise for the influx of tech jobs, a growing university and the proximity to some serious nature.
In the span of a single generation, Boise's changing demographics have transformed it from an overwhelmingly Republican stronghold to one with an emerging Democratic presence. Even so, it serves as the social and economic engine of a state that — alongside the Dakotas, West Virginia and Wyoming — remains among the most consistently red-skewing. In the 2016 election, for example, Donald Trump won Boise by almost 10% and the state of Idaho by a landslide margin of 31%. Further, both of Idaho's current senators and two U.S. representatives are Republican men.