Disney's Pirates of the Caribbean ride will stop auctioning off women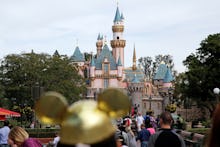 When Disney's Pirates of the Caribbean attraction reopens after routine maintenance next year, visitors can expect a big change in the decades-old ride.
In an effort to eliminate traces of misogyny from the ride, Disney's Imagineers are altering the attraction to remove a scene where women are lined up and auctioned off as prospective wives. The modification will take place at the company's parks in Anaheim, California, Orlando, Florida, and Paris, France.
"We believe the time is right to turn the page to a new story in this scene, consistent with the humorous, adventurous spirit of the attraction," Disneyland Resort spokeswoman Suzi Brown said in a statement to the Orange County Register.
The old scene featured a sign reading "Auction: Take a wench for a bride," with a group of pirates shouting "We wants the redhead."
The modified version of the attraction will instead include a sign displaying the words "Auction: Surrender yer loot." The redheaded woman from the original scene will return in the new edition as a pirate who gathers items to auction off to pirates.
The Pirates ride has undergone several other changes over the years. In 1997, the attraction was modified to make it appear as though pirates were lusting over plates of food, rather than chasing after women. Additionally, a scene was altered in recent years to feature a woman running after a pirate, rather than the other way around.
"The Imagineers are simply reflecting what Walt started the day Disneyland opened — making changes that create exciting new experiences for our guests," Marty Sklar, former vice chair of Walt Disney Imagineering, said in a statement to the Register. "I can't think of a single attraction that has not been enhanced and improved, some over and over again."
According to the Los Angeles Times, the ride will reopen with the changes at Disneyland Paris in July, and at Orlando's Magic Kingdom and Anaheim's Disneyland next year.