Shiny Pikachu 'Pokémon Go': Update 0.67.2 APK data mine hints at anniversary event and more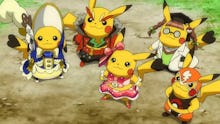 Pokémon Go fans currently have their hands full with the gym and raid updates, but it seems there's always time to snoop what's happening in an APK data mine. Last time we got a lot of information — but to be fair, it was the APK directly before the raid update — including the first overt reference to legendary Pokémon in the game's code.
Although the data mine for version 0.67.2 of the game is a little lighter on dirt, there's still something exciting at the end of this data rainbow for the diehard Poké fan. Let's get into it.
Shiny Pikachu Pokémon Go: Update data mine contains hint about an anniversary event
According to the Silph Road, the 0.67.2 APK data mine contains three updates. The first is a slight change to pre-battle buffer times. The second is a minor fix to character heights, though whether this means a fix to avatar heights relative to that of buddy Pokémon or something to do with gym displays is unclear. All in all, nothing out of the ordinary for a data mine, and small peanuts compared to the third piece of code.
Specifically, a new event type has appeared, labeled in the code as "ONE_YEAR_ANNIVERSARY." The common theory is that this is a piece of code that will be used to enable a special Pokémon variant for the event. Given the recent rumor floating around that the "rare Pikachu" being previewed at Siggraph 2017 might be a shiny variant, it's not surprising that this would be the go-to theory for a piece of code like this.
However, without more information to go off other than the event type itself, it remains to be seen whether or not there's actually going to be a shiny variant. But at the very least, fans of Pokémon Go can take heart knowing that something is coming — we're just not sure what it is yet.
More Pokémon Go news, updates, tips and tricks
Raids are here! See why they may be the key tolegendary Pokémon. Find out how to determine how long it will take you to reachlevel 40, and see what we think of theGen 2 Pokémon added to the game. Here are the kinds of Pokémon you get from10-kilometer eggs, and here's where you can check out what you missed during theWater Festival andSolstice events. Find out more about the upcomingChicago event and why you'll probably be able tocatch Unown while you're there — if you're not busy searching forrare evolutionary items, that is.