Florida lawmaker slams Governor Rick Scott for not passing LGBTQ protection bill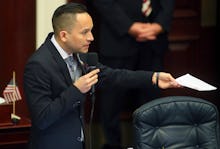 Florida Governor Rick Scott is in hot water this week over what some see as a breaking of his promise to sign an executive order protecting LGBTQ state workers and contractors from employment discrimination.
According to the Orlando Sentinel, advocates and lawmakers believe the governor reneged on a promise made to them in the days following the June 2016 shooting at Pulse nightclub in Orlando.
In a phone interview, Florida Rep. Carlos Guillermo Smith called Scott a "coward" for his failure to stand for Florida's LGBTQ workers after the Pulse tragedy happened in his own state.
"The message from this is that LGBTQ people don't matter," Smith said. "The governor agrees that murdering LGBT people is wrong, but it's OK to fire them? What other message is there to take from this?"
Florida is one of 28 states that doesn't protect its employees from discrimination based on sexual orientation or gender identity, according to the Movement Advancement Project. Currently, 20 states and Washington, D.C., protect workers based on both sexual orientation and gender identity while New Hampshire and Wisconsin protect only based on sexual orientation.
According to Smith, both he and Nadine Smith, the president of Equality Florida, met with the governor's top staff — then-chief of staff Kim McDougal and legislative affairs director Kevin Reilly — two weeks after the Pulse tragedy. During the meeting, Rep. Smith said they discussed the governor signing an executive order that would protect state LGBTQ workers and those working under state contractors from employment discrimination. Smith said Scott's staff were on board and said they'd work with the governor to see it signed.
A year later, the executive order languishes with no indication it will be signed, while the chorus for it to pass is growing louder.
Last week, Christine Leinonen, who lost her son Christopher "Drew" Leinonen during the Pulse shooting, wrote an op-ed advocating for the order in the Sentinel. The next day, Pulse survivor Brandon Wolf called Scott "out of step" with the community in a Tallahassee Democrat editorial.
Smith suggested that Scott may be hesitant to embrace pro-LGBTQ legislation because his Republican base may not be supportive. However, Smith said he handed the governor an executive order previously passed by Jacksonville, Florida, mayor Lenny Curry as an example. Curry is a Republican who served as the chairman of the Florida Republican Party from 2011 to 2014.
Rather than work from the model, Smith said the order has been "collecting dust on his desk."
Smith said the governor's office said they were "sidetracked" several times while working on the order. First, the Zika virus outbreak, then Hurricane Matthew in October and then the holiday season.
Mic contacted Scott's office for comment and will update if we hear back.
In response to the Sentinel's request for comment, the governor's spokeswoman Lauren Schenone said Florida follows state and federal laws and "doesn't tolerate discrimination in any form."
"From this terrible tragedy, the worst hate crime against the community in U.S. history, our governor can't even sign a piece of paper to say that discrimination against LGBTQ people is wrong," Smith said. "We want some evidence or signal from the governor that he actually cares about the LGBTQ community and how we're really struggling to rebuild."