'MLB The Show 17' Gameplay: Is hitting really an issue?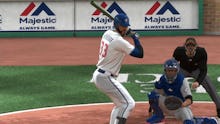 On Thursday, the Sony San Diego Studio development team took to Twitch to address the hot-button issues surrounding MLB The Show 17. Servers, hitting difficulty and realism took center stage. A quick scan of Reddit and the Operation Sports forums will give you an idea of what people are saying about both aspects of the game.
Since MLB The Show 17 released on March 28, it has been plagued by intermittent server issues. Much has been done to correct the problem, but as detailed in the stream, some impediments have still lingered.
I played two games online in Diamond Dynasty prior to publishing and found the experience to be acceptable. It wasn't perfect, but it was much better than what many gamers were experiencing for the first two weeks after launch.
There's still odd instances of lag; quite honestly, I'm not sure if a baseball game will ever deliver a pristine online experience. The slightest bit of lag is the difference between making solid contact, missing a pitch, popping it up or pounding the ball into the ground.
MLB The Show 17 Hitting: Fans need to take stats into account before they complain the game is broken
The complaints about hitting are the ones I want to focus on because they're a little silly. Some fans are complaining about increased hitting difficulty, and they're attempting to mask their frustrations by labeling the hitting in The Show as unrealistic.
A large percentage of sports gamers want too much control. That may sound crazy, but allow me to expound.
Sports games are largely driven by player ratings and instances of chance. That is especially the case in baseball titles. If you're hitting with a player with a .240 average that has never hit more than eight home runs in a season, you should expect it to be more difficult to hit a home run or make solid contact.
From hearing and reading the complaints, many fans want 100% success when they believe they have successfully aligned the Plate Coverage Indicator (PCI) with where the pitch crosses the plate.
As explained in the stream, that's only an indication of the path where the bat will travel, but it's not a representation of the timing of the swing, which is equally important.
The fact is, in baseball hitters can do everything right and still not get a favorable result. Line outs and sharply hit one-hoppers that turn into double plays are a reality.
Fans need to ask themselves: "Do I want realistic baseball–even if that means I'll be frustrated at times–or do I want one-to-one results?"
I can't speak for everyone, but for me and others I've talked to on Twitter, the hitting mechanic isn't a problem. In fact, it's one of the best aspects of the gameplay.
When we don't have success, we can't always claim the game is broken. If there is rhyme and reason behind the struggles, it's a challenge, not a malfunction.
More sports gaming news and updates
Love sports games? Check out more content from Mic, including tips for leveling up your MLB The Show RTTS player, the new story mode in Madden 18, a wish for the WWE 2K18 release and a detailed sports video game release calendar.