Texas Supreme Court rules spousal benefits for LGBTQ employees are not guaranteed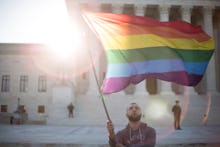 Texas' Supreme Court issued a ruling in an ongoing dispute over spousal benefits for same-sex couples on Friday, declaring that benefits are not guaranteed under the U.S. Supreme Court's Obergefell v. Hodges decision legalizing same-sex marriage.
In a unanimous decision, the Texas court reversed a lower court's ruling upholding the city of Houston's decision to extend benefits to the same-sex spouses of city employees, and sent the case back to the lower court to be retried.
Though same-sex marriage was officially legalized in 2015, the Texas judges believed the "reach and ramifications" of the Supreme Court's 2015 decision had not been clearly specified, casting doubt over whether such spousal benefits should be required.
The court's decision does not necessarily mean that the city may automatically "constitutionally deny benefits" to employees' spouses, but rather sends it back to the trial court in Houston to allow both sides of the case "a full and fair opportunity to litigate their positions on remand," the court's opinion clarified.
The city of Houston's current employee benefits, which could be taken away from same-sex spouses depending on the results of the lower court's retrial, include medical, dental and vision insurance, along with a life insurance benefit and supplemental coverage in the event of unexpected medical events.
Following the U.S. Supreme Court's 2015 ruling, Texas began extending benefits to same-sex spouses of public employees — a policy that was challenged by conservative groups and two taxpayers represented by opponents of same-sex marriage, who sued the city of Houston. Though the state's Supreme Court initially declined to hear the case last year, it ultimately re-opened the case following an outpouring of letters and pressure from the state's GOP leadership, according the Texas Tribune.
"The Texas Supreme Court's decision this morning is a warning shot to all LGBTQ Americans that the war on marriage equality is ever-evolving," GLAAD President Sarah Kate Ellis said Friday, as quoted by Dallas News. "Anti-LGBTQ activists will do anything possible to discriminate against our families."
The Texas ruling comes just a few days after the U.S. Supreme Court re-affirmed Obergefell v Hodges in a ruling regarding Arkansas birth certificates, in which the court asserted both names of a child's same-sex married parents must be listed on their birth certificate. In its opinion, the court declared that the differential treatment of same-sex couples violated Obergefell's guarantee to provide these couples with "the constellation of benefits that the States have linked to marriage."