Mark Hamill reads Donald Trump's 'Morning Joe' tweets as the Joker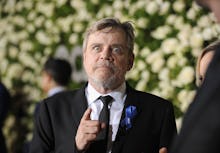 Donald Trump is coming under fire for his controversial tweets regarding MSNBC's Morning Joe co-host Mika Brzezinski. The president's tweet, in which he said Brzezinski approached him while "bleeding badly from a face-lift," has received criticism from all sides of the political spectrum. Now, the remarks have even drawn the attention of Batman's archenemy the Joker — well, one of the Joker's most famous voice actors: Star Wars' Mark Hamill.
In January, after a suggestion from a fan, Hamill began posting audio clips of himself reading controversial Trump tweets using his popular Joker voice. The first such reading was of the then-president-elect's happy new year tweet, in which he called out his "many enemies." The result was priceless; as well as a bit scary considering how appropriate the voice sounds reading the odd statements.
Hamill named this new character the Trumpster, obviously an amalgamation of Trump and supervillain the Joker. It has been some time since the Trumpster returned to wreak havoc with his voice, but he is now back, this time reading aloud Trump's derogatory tweets at Brzezinski and her Morning Joe co-host, Joe Scarborough. Click on Hamill's tweet below to listen to the Trumpster's latest recording.
Mic has ongoing coverage of Donald Trump. Please follow our main Donald Trump hub here.