Jay-Z's mother, Gloria Carter, comes out as a lesbian on '4:44' track "Smile"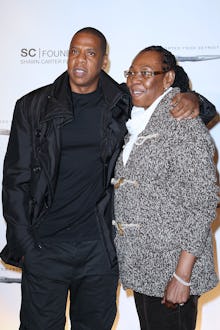 Over the 36-minute run time of 4:44, Shawn "Jay-Z" Carter's 13th studio album, fans learn intimate details about the Carter family's history, just as they have over most of Jay's catalog. The Brooklyn-raised emcee offers yet another vivid look at his Bed-Stuy roots on "Marcy Me" and almost every member of his extended family gets a shout-out on "Legacy." But no Carter family member's life is painted in more careful, glowing detail than that of Gloria, Jay-Z's mother.
She's featured on "Smile," duetting with her son about finding hope in dark times. It's where she, later in life, comes out as a lesbian, letting her son confirm the news publicly in the song's first verse:
Mama had four kids, but she's a lesbian
Rumors about Gloria Carter's sexual identity began in 2013, when she allegedly began dating Dania Diaz, who runs Jay-Z's Shawn Carter Foundation. But those whispers have never been confirmed publicly until now.
"Cried tears of joy when you fell in love," Jay raps, suggesting he's known for a while. "Don't matter to me if it's a him or her/ I just wanna see you smile through all the hate/ Marie Antoinette, baby, let 'em eat cake."
The revelation drew praise from GLADD president and CEO Sarah Kate Ellis, who thanked the rapper's mother via Twitter.
"By sharing her truth, Gloria Carter is increasing visibility of lesbian women of color at a critical time," she wrote. "Thank you, Gloria."
Gloria Carter gets a chance to say her own piece on the track as well, her second feature on a Jay-Z album after 2003's "December 4th." She recites a poem, encouraging others to come forward with their truths, saying that life is too short to live in fear.
"Living in the shadow feels like the safe place to be," she says. "No harm for them, no harm for me/ But life is short, and it's time to be free/ Love who you love, because life isn't guaranteed."
Mic has ongoing music coverage. Please follow our main music hub here.