Alton Sterling: Timeline of events since the father of five was fatally shot by Baton Rouge police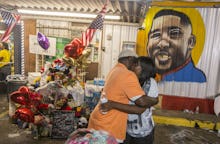 Wednesday marks one year since the fatal police shooting of Alton Sterling, a 37-year-old black man and father of five, in Baton Rouge, Louisiana.
He was selling CDs outside a convenience store when police officers who were responding to a call about a man with a gun arrived. He was shot several times at close range by Baton Rouge officers Howie Lake II and Blane Salamoni.
Here's a timeline of the events since Sterling was fatally shot on July 5, 2016.
July 5, 2016: Sterling was fatally shot
While selling CDs in front of a Triple S Food Mart in Baton Rouge, Sterling was fatally shot by police. Numerous onlookers managed to capture the entire scene on video, some of which were picked up by both local and national news sources.
Baton Rouge police officials released the names of officers Blane Salamoni and Howie Lake, who held down and shot Sterling. During this press briefing, the Department of Justice announced it would investigate the shooting.
July 7, 2016: Protests erupted across the nation; celebrities and more reacted
After the video of Sterling's death went viral, protests erupted across the country and several black celebrities and influencers weighed in on the epidemic of police brutality. Drake wrote an open letter, comedian Larry Wilmore covered it in a segment on The Nightly Show, and Issa Rae started a GoFundMe for Sterling's children, raising over $200,000 in nine hours.
July 10-11, 2016: Protests gained nationwide attention
In the week following Sterling's death, protests across Baton Rouge led to dozens of arrests. The above image of Leshia Evans, a mother to a 5-year-old son, became an iconic image of protest that summer.
July 13, 2016: Sterling's son, Cameron, spoke out
Cameron Sterling, who was 15 at the time, spoke out during a press conference organized by the family's attorney. "I feel that everyone, yes, you can protest," he said. "But I want everyone to protest the right way. Protest in peace — not guns, not drugs, not alcohol, not violence. Everyone needs to protest the right way. With peace, no violence. None whatsoever."
Aug. 23, 2016: Obama met with the family
Over a month after Sterling's death, then-President Barack Obama met privately with members of the Sterling family. After seven years in office, this was the first time he met and consoled a black family whose loved one was fatally shot by police.
May 2, 2017: The DOJ decided not to charge the officers
Ten months after the DOJ announced it would investigate Sterling's death, it decided not to charge either of the officers involved in the shooting. Baton Rouge residents protested the decision outside of the police department headquarters, the Advocate reported.
June 27, 2017: Sterling's children sued Baton Rouge
Sterling's children are suing the city of Baton Rouge, the police department and the officer who fired the shot. The wrongful death lawsuit alleges that the fatal shooting was indicative of racist conduct and excessive force by Baton Rouge police.