'The Bold Type' is a litmus test for your feelings about wokeness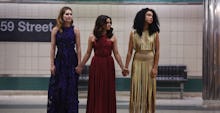 How you feel about The Bold Type, Freeform's newest series based on the experiences of (and executive produced by) Cosmopolitan editor Joanna Coles, depends on how you feel about "wokeness." When you hear that term, do you think that it's a tongue-in-cheek way to describe a large-hearted and necessary state of awareness? Or do you find it to be more harmful than helpful — the kind of meme of the moment that prompts self-congratulatory people to compete over who can appear to be the most socially conscious?
The Bold Type relies on Freeform's confidence that its young, female target viewers are into being woke. The show is set behind the scenes of Scarlet magazine, a would-be Cosmo analogue that actually looks and sounds more like Teen Vogue. Socially relevant stories about underrepresented groups are rising online, and the three protagonists represent the would-be readers of these stories: young, female, college-educated and, yes, woke.
In the three episodes made available for critics, The Bold Type follows the women as they clash with the more entrenched directors and editors at Scarlet over what kind of coverage their women's magazine should be running. It's a strong, contemporary concept that sets the show apart from its Pretty Little Liars-esque sisters on the network: These are career women whose stories primarily focus on professional developments, not romantic flings or murder mysteries. What it lacks in wild drama, it makes up for with likable characters and a light touch that keeps everything from getting too heavy.
The first three episodes introduce us to the key figures of the Scarlet world: Newly promoted writer Jane Sloan (Faking It's Katie Stevens) worries about becoming a glorified personal essayist, and wants to write about politics as well. Sutton Brady (Broadway vet Meghann Fahy) toes the line between independence in the workplace and her romantic relationship with one of her bosses. Kat Edison (Aisha Dee of the recently canceled Sweet/Vicious) is a social media director with her eye on which stories share well.
For anyone who works in media in 2017, the lead women's stories are familiar at least and deeply resonant at most. In the pilot, Kat pushes back when her bosses kill a story about a Muslim lesbian artist named Adena El-Amin (Nikohl Boosheri), claiming the story will "click well" — she knows how to sell a piece like this to her less-woke bosses. When Kat manages to save the story (and it does indeed perform well), another editor hounds her about a follow-up.
There's a cynicism lying underneath Scarlet that's surprising, particularly considering Coles' involvement as an executive producer. There are few hosannas to be sung about the power of media; even when Scarlet publishes Adena's powerful story, one editor calculates its achievement in traffic, not journalistic gravitas. Only through Kat and her friends is the real quality of the story celebrated.
The protagonists are anything but cynical. Jane's desire to write about what she describes as "important" matters reveals her to be an idealist first and foremost. Kat, a black woman, reconsiders her sexuality thanks to sudden feelings for another girl, and does so with relatable-but-imperfect confusion. Sutton's story is the worst fit here, and feels like it belongs in another show at times. She's best-served by subplots about her ambition to move up in the company, not her secret relationship with a company director.
The Office alum Melora Hardin plays moderator between the starry-eyed leads and the pessimistic world around them. As Jacqueline Carlyle, the editor-in-chief of Scarlet, she's both inspiring and no-nonsense. Her speech about the magazine at its anniversary party in the pilot is full of platitudes about the power of the publication, yet she also insists that Jane write personal essays to help the young writer develop a more sure, savvy voice.
It's in large part thanks to Jacqueline, and thus Hardin, that The Bold Type works. She's the bridge between the show's two philosophies — wokeness and business — and shows how they serve as yin and yang for successful, young media employees. Frankly, the scenes she's in elevate the show; without Jacqueline, the Scarlet office feels unmoored.
Herein lies the wokeness issue: The show defaults to believing in the protagonists, almost uncritically, when Jacqueline is elsewhere. The Bold Type adopts their idealism and social consciousness fully. When Adena El-Amin questions the feminism of Scarlet — she thinks it isn't feminist at all — Kat gets to wax poetic about how outdated that opinion is, and how Scarlet is actually leading the way, offering beauty tips and political coverage to young women in equal measure. This is where the Teen Vogue comparison comes in: Every surprised reaction to the Condé Nast publication's political coverage in 2016 could be applied to Scarlet. You half-expect Jane to write a piece about how Donald Trump is gaslighting America.
Frankly, The Bold Type's cynical side is the more intriguing one. The show's more optimistic moments largely feel naïve. In truth, a publication like Scarlet would have plenty of problems to confront — among them, troubling inter-office relationships and trying to stay engaged with a young readership. Even beacon-of-hope Teen Vogue has been criticized for commodifying wokeness (a charge the publication itself refutes).
For those who think woke, that at-times irrepressible optimism may not be a problem. The waves of praise and celebration for a publication that believes in the voices of young women may feel earned and important in a media climate where women's magazines — including Cosmo — are still underestimated and undervalued. It's an anvil of a moral: unsubtle and heavy-handed, but not without value. But again, those allergic to wokeness might find the teachable moments unnecessary altogether.
Detached from the world we live in, The Bold Type is entertaining, fun and has surprising depth. If you can look at it without getting swallowed up by all the meta elements, it's remarkably watchable, joining the ranks of summer delights like Younger and Glow. But if you're the type of person exhausted by wokeness and all that comes with it, this is the last show for you. The Bold Type is like Scarlet in that way: soft at first glance, but with a provocative edge.
The Bold Type premieres July 11 at 9 p.m. Eastern on Freeform.
Mic has ongoing TV coverage. Follow our main TV hub.