This new iPhone 8 leak looks pretty legit. Here's what we know about Apple's next release.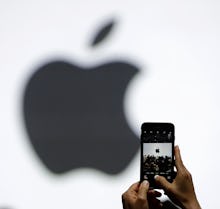 As we get closer to the release date of the iPhone 8 — the smartphone honoring the 10th anniversary of the iPhone, said to debut this year — more and more leaks offer a sneak peak at what may be in store for consumers. Now, Benjamin Geskin, a well-known Twitter leaker, has shared a supposed prototype of the premium 2017 iPhone.
The purported images of the iPhone 8, which is also being called iPhone X or iPhone Edition, is not bezel-less. This contradicts long-lasting rumors that the iPhone 8 will be edgeless and nearly free of bezels. Instead, the design seen here has bezels surrounding the device.
iPhone 8 leak: Is it real?
Geskin isn't so sure it's legitimate. In his tweet, he added some skepticism to the authenticity of the pictures: "This ugly design again? Hmm..."
But, as 9to5Mac reported, Apple has likely created a few different prototypes while finalizing the device. So it's entirely possible that the leak shows an authentic dummy unit but not necessarily what the final handset will look like.
iPhone 8 leak: New features to expect
The iPhone 8 is speculated to come with a steep price tag, with prices around $1,000. Part of the reason for the high price point are the new features coming to the smartphone: It is rumored to showcase wireless charging, support for the Apple Pencil and even 3-D sensing technology.
From a design standpoint, the phone is said to have a glass and stainless-steel body with an edgeless 5.8-inch OLED display. According to BGR, the smartphone will come with a better screen resolution than its predecessors. The device's fingerprint sensor may also be integrated into the screen of the device, though rumors suggest Apple is struggling to perfect this feature. iPhone 8 will run on iOS 11, Apple's recently announced operating system.