9 months later, Facebook Marketplace is still pretty much just for murderers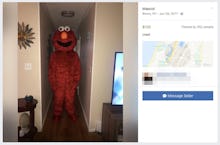 When Facebook Marketplace launched in October, it didn't take detective-like sleuthing to find a plethora of illegal goods, including an AK-47, baby hedgehogs and some sweet kush. Facebook blamed the posts on a glitch, apologized and promised to crack down on illegal content.
What's Marketplace like now? Nearly nine months later, you can't find an assault rifle — but Mark Zuckerberg's sad bazaar of horrors is still serving some straight-up murder-y vibes.
Does anyone even use Marketplace? A Facebook spokesperson said in an email that over 550 million people around the world visit buy-and-sell groups each month, over 18 million new items were posted for sale in Marketplace in the U.S. in May and there has been an over 77% increase in unique conversations between potential buyers and sellers.
The three most popular categories in the U.S. from March through June are women's clothing and shoes, furniture, and babies and kids. But did you know on Marketplace you can also find boyfriends, used sex toys, feces and, uh, "dick"?
For just a buck, you can gaze into the dead eyes of a Mickey Mouse and Minnie Mouse duo you surely wouldn't want to run into alone in an alley.
For $25, you can be the proud owner of a haunted oil portrait of a "turn-of-the-century tycoon," or you can splurge on a masterpiece that might start bleeding!
Or how about this chilling bobcat taxidermy model?
Only $395 for the feet of a king!
Save the animals!
I don't think this guy understands how Marketplace works. Wassup.
An elf, or maybe a dwarf, but definitely not a murderer. Just three payments of $222.
Facebook Marketplace gives Craigslist a run for its money when it comes to a selection of menacing dolls.
Be careful out there, folks.