Navigating Trump's Twitter: 11 times Donald Trump tweeted something terrible about a woman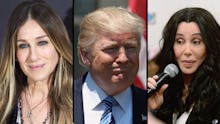 Navigating Trump's Twitter is a new series from Mic that explores how the president elects to use his favorite medium to impact policy, express his viewpoints and attack the media. Instead of covering Trump's tweets as they come, we look for patterns in behavior that offer a window into the president's actual world view and how he chooses to express it through unmediated 140-character missives.
President Donald Trump recently came under fire for attacking Morning Joe co-host Mika Brzezinski on Twitter with a sexist broadside about a "face lift."
The attack was quickly condemned by many in Trump's own party who expressed frustration that Trump's uncalled-for attacks distracted from their broader policy agenda.
But if Republican politicians didn't want their political objectives to be sidelined by unexpected bouts of online sexism, well, they probably shouldn't have supported Trump's presidency to begin with — because the lewd billionaire has made no bones over the years about lobbing these kinds of sexist attacks.
Here are 11 times that Donald Trump came for powerful women on Twitter using blatantly misogynistic rhetoric — all of which, unlike the Brzezinski tweet, predate his presidency.
Cher
In 2012 Trump responded to a joke from Cher about his hair by publicly promising "not to talk about [her] massive plastic surgeries that didn't work." The grade school tactic of talking about something by vowing not to talk about it is a mainstay of in Trump's Twitter attacks.
Arianna Huffington
Trump has twice described former Huffington Post editor-in-chief Arianna Huffington as "unattractive both inside and out." In both instances, he made reference to her ex-husband, former Republican Rep. Michael Huffington.
Trump's obsession with the Huffington divorce may have something to do with his own experience as a wealthy, twice-divorced businessman. His tweets appear to brim with indignance at the fact that Arianna Huffington has eclipsed, in both stature and influence, the man who gave her her iconic last name.
Bette Midler
In October 2012, Trump came after star of stage and screen Bette Midler, once again employing his painfully not-clever "I refuse to say" strategy. Trump was responding to a tweet in which Midler argued he should be held down had have his hair cut off.
In his tweets, Trump gets to the heart of why he prefaces his barbs with a disclaimer on how hesitant he is to say it. The culprit? Reverse sexism.
".@BetteMidler talks about my hair but I'm not allowed to talk about her ugly face or body — so I won't. Is this a double standard?" Trump tweeted, explaining his contempt for Midler. It is truly unfair that the future president of the United States was once forced to endure mild chiding about his combover from a legendary actor and comedian, but couldn't follow up with his opinions about her "ugly face and body" without having to frame them as acts of self-restraint. #Misandry #Sad!
Rosie O'Donnell
Trump's longtime feud with talk show host Rosie O'Donnell has been well-documented. Though much of it has taken place off Twitter, Trump still managed to get in a few body-shaming tweets between 2013 and 2014.
Once again, Trump's biggest concern is hypocrisy and political correctness. He could not resist declaring victory after the star admitted to suffering from feelings of shame about her body, despite her own publicly stated position on body-positivity.
And the billionaire, known for bragging about non-consensual sex acts, couldn't help but manually retweet a follower's query about how much money it would take for Trump to "make out" with the gay icon.
Kristen Stewart
Between 2012 and 2013 Trump tweeted eight times about Kristen Stewart's former relationship with Robert Pattinson. Yes, eight times. While most of his tweets center around concerns that Pattinson might get back together with Stewart after she cheated on him, one particular tweet stands out, as the future president of the United States calls the Twilight star a "dog."
Sarah Jessica Parker
Trump's feelings about the "unsexiness" of Sarah Jessica Parker did not fit in a tweet, so he directed his followers to a Facebook post where he could adequately expound on the subject.
"Sarah Jessica Parker voted 'unsexiest woman alive' – I agree. She said 'it's beneath me to comment on the potential Obama charitable gift.' What's really beneath her?"
The Sex and the City star had been referring to Barack and Michelle Obama's attendance at a high-dollar fundraiser the actress had just held in Manhattan.
Heidi Cruz
In this famous moment from the 2016 campaign, Trump manages to both insult his primary competitor Ted Cruz's wife while simultaneously objectifying his own.
Not sure what else really needs to be said here.
And, of course, Hillary Clinton
Trump obviously did not make it through the 2016 general election without insulting Hillary Clinton as a woman. In this iconic tweet, which Trump deleted shortly after posting, the notorious philanderer reveals that he believes a man's fidelity to his wife is based on her ability to "satisfy" him. Satisfied, America?