Will Jorah Mormont return in 'Game of Thrones' season 7?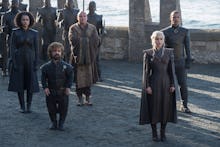 Season six of Game of Thrones left fans with some major #SquadGoals after the finale showed Daenerys setting sail for Westeros with Tyrion, Missandei, Grey Worm and Varys. Yara and Theon Greyjoy also trailed closely behind, but eh... we could take them or leave them. Still, one character remained conspicuously absent: Ser Jorah Mormont, aka Jorah the Explorer, aka Daenerys' biggest fan.
Mormont revealed to his major crush Daenerys in season six that he had contracted greyscale, and that it was quickly traveling up his arm. After she sent him away to find a cure, viewers began wondering if he'd ever return to the series.
According to actor Iain Glen, who plays Jorah, the lovesick knight will definitely be in season seven. Glen told Entertainment Weekly that he received scripts for the new episodes and even hinted that his character might lose his life.
"My feeling is Jorah would die a happy man if he could get forgiveness from Daenerys," he said. "He's been in that mental territory half his life. He's always been willing to sacrifice his life for her. His loss of life is not as big for him as seeking her redemption."
Glen mentioned that season seven will be "all about whether [Jorah] will survive this horrendous sickness he's contracted," which indicates the show will follow him on his quest for treatment. But while we know for a fact that Stannis Baratheon used a greyscale cure on his daughter Shireen, it is less apparent if and how Jorah will discover this information. Perhaps Melisandre, who is now a free agent after being dumped by Jon, will cross paths with Jorah and clue him in to Shireen's plight. It could provide a way in with a grateful Daenerys, who might ensure her some personal security in the wars to come. Or maybe this long-winded, meticulously researched theory about greyscale will prove true, and Jorah will just need to blind his greyscale with science.
Fans will find out for sure when Game of Thrones returns to HBO on July 16.
Mic has ongoing coverage of Game of Thrones. Check out our main Game of Thrones hub here.