Philando Castile: Timeline of events since the Minnesota man was fatally shot by Jeronimo Yanez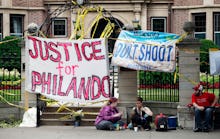 It's been one year since Philando Castile was fatally shot by St. Anthony, Minnesota, police officer Jeronimo Yanez on July 6, 2016.
In a routine traffic stop gone awry, Castile was shot multiple times after informing the officer he was carrying a gun (for which he had a permit). Castile's girlfriend, Diamond Reynolds, witnessed the encounter — along with her 4-year-old daughter — and livestreamed the aftermath on Facebook.
Castile died one day after the fatal shooting of Alton Sterling and became the 115th black man killed by police in the U.S. in 2016, a number which eventually climbed to 258. One year after Castile's death, we look back on the major moments in the case.
July 6, 2016: Facebook Live video captures the aftermath of Castile's shooting
(Editor's note: The following video contains graphic images. View with discretion.)
Reynolds posted a Facebook Live video showing the moments after the encounter between Castile and Yanez. Reynolds' daughter, who was 4 at the time, was in the backseat of the car.
"We got pulled over for a busted taillight in the back," Reynolds says in the beginning of the Facebook Live video. "The police just, just ... he's covered." 
"He's licensed to carry," Reynolds explains of Castile. "He was trying to get out his ID and his wallet out his pocket, and he let the officer know that he had a firearm, and he was reaching for his wallet, and the officer just shot him in his arm."
July 7, 2016: Protests begin across the country
Castile's shooting sparked protests throughout Saint Paul, Minnesota, and in cities across the nation. In addition to Castile's mother and girlfriend speaking out for justice, notable celebrities also called for change. Both Beyoncé and former President Barack Obama issued statements about the Castile and Sterling shootings.
July 7, 2016: Minnesota governor requests federal investigation into Castile's death
The day after Castile's death, protesters gathered outside of Minnesota Gov. Mark Dayton's home and refused to move until he made a statement. When Dayton complied, he requested the Justice Department immediately begin investigations into the death of Philando Castile.
July 8, 2016: The officer responsible is identified
In a press release, the Minnesota Department of Public Safety identified Jeronimo Yanez as the officer who fatally shot Castile. He was a four-year veteran at the department and was placed on administrative leave from duty.
Nov. 16, 2016: Jeronimo Yanez is charged with manslaughter
Four months following the shooting, Minnesota officials announced Yanez would face charges of second-degree manslaughter and two felony counts of intentional discharge of a dangerous weapon.
Dec. 23, 2016: Yanez's attorneys get black judge removed from case
Yanez's lawyers filed a motion Dec. 22 to to have Ramsey County Judge Edward Wilson, a black man, removed from the case. Their request was granted the following day. Yanez's defense team gave no reason for seeking Wilson's removal, which is legal under Minnesota law so long as such a request is made seven days prior to the judge's appointment.
June 5, 2017: Yanez's trial begins with a mostly white jury
Yanez's trial began amid protests and intense scrutiny following the trials of other police officers involved in the fatal shootings of black men around the country. The retrial of former University of Cincinnati police officer Ray Tensing and former Milwaukee police officer Dominique Heaggan-Brown in Milwaukee were planned for the same month.
June 16, 2017: Yanez found not guilty
About two weeks after the trial began, jury members found Yanez not guilty, acquitting him of all three charges. The decision prompted protests across both Minnesota and the nation.
"My son loved this city, and this city killed my son," Valerie Castile, Philando's mother, said outside the courthouse that day. "We're not evolving as a civilization, we're devolving."
June 20, 2017: Dashcam footage of shooting released
(Editor's note: The following video contains graphic images. View with discretion.)
Following Yanez's acquittal, Minnesota authorities released dashcam footage capturing the incident. The 10-minute-long video shows Yanez saying "Then don't reach for [your gun]" before firing about 10 seconds later.
June 26, 2017: Philando's family reaches settlement with city 
To avoid a federal wrongful death lawsuit, the city of St. Anthony, Minnesota, agreed to pay nearly $3 million in a settlement to the Castile family. According to the St. Louis Post-Dispatch, the city's insurance allows a maximum payout of $3 million.