Meet the 22 highest-paid staffers in Donald Trump's White House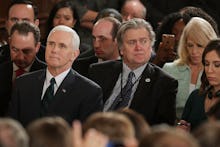 The White House on Friday released its annual report on the salaries of every member working in the executive office of the president, with 22 staffers making the maximum $179,700 annual salary.
Former President Barack Obama had 16 staffers pulling the maximum salary in his final year in office.
The White House is required release the salary list annually in a report to Congress.
Three of the employees listed receive a $0 salary, including first daughter Ivanka Trump and her husband, Jared Kushner. The third is assistant to the president for intergovernmental and technology initiatives Reed Cordish, a close friend of Ivanka Trump and Kushner whose net worth the New York Times has estimated at somewhere between $197 million and $424 million.
(Mark S. House, a senior policy adviser, is the highest-paid on the list at $187,100. However House is a "detailee," meaning he is not an official White House staffer and is merely on assignment at the White House while the department for which he works continues to pay his salary.)
Here's the list of Trump White House staffers making the maximum salary, in alphabetical order:
Steve Bannon, chief strategist and senior counselor
Thomas Bossert, who serves as one of Trump's homeland security advisers
Andrew Bremberg, director of the Domestic Policy Council
Kellyanne Conway, a senior counselor to Trump who's often dispatched to defend his actions on television
Ricky Dearborn, deputy chief of staff for legislative, cabinet, intergovernmental affairs and implementation
John DeStafano, director of presidential personnel
Jason Greenblatt, special representative for international negotiations
Joseph Hagin, deputy chief of staff for operations
Hope Hicks, director of strategic communications
Joseph Kellogg, chief of staff for the National Security Council
Omarosa Manigault, director of communications for the Office of Public Liaison
K.T. McFarland, deputy national security advisor
Donald McGahn, Trump's White House counsel
Stephen Miller, senior policy advisor
Robert Porter, White House staff secretary
Dina Powell, deputy national security adviser for strategy
Reince Priebus, Trump's chief of staff
Lindsay Reynolds, first lady Melania Trump's chief of staff
Dan Scavino, Trump's director of social media
Marc Short, director of the office of legislative affairs
George Sifakis, director of the Office of Public Liaison
Sean Spicer, White House press secretary