4 indie games from developers of color that you should check out now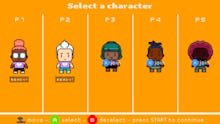 While big blockbuster games are always fun, sometimes it can be overwhelming to dive into a game that might takes dozens of hours to complete. Already in 2017, we've seen some great, but really long games hit the market, including The Legend of Zelda: Breath of the Wild, Nier: Automata, Horizon Zero Dawn, Prey and Mass Effect: Andromeda.
Sometimes it's nice to relax with smaller games and support independent developers while you're doing it. Mic was lucky enough to go to the 2017 Game Developers of Color Expo this year and play some indie games that can help you do just that,
Here's a handful of indie games from developers of color that are worth checking out the next time you want to play something short and sweet.
Keep your friends out of their toxic relationships with Break Up Squad
One game that immediately stuck out at the conference was Break Up Squad by Brooklyn Gamery. It's an asymmetrical team-based game about two on-again, off-again lovers who are trying to reconnect at a party while their friends try to keep them apart. Two people play as the exes, while the three remaining players are their friends, desperately trying to break toxic cycle.
The game has fun gender neutral character designs and the design is cute with vibrant pixel art. If you're interested, you can purchase Break of Squad for $2.99 on the game's site.
Throwing shade is finally rewarded in The Ultimate Clap Back
The Ultimate Clap Back is a party game of slights and shade. It's hilarious and entertaining to just watch. I kept coming back to the table at the Devs of Color Expo just to see what was going on.
The premise of the game is that one player directs a card with a joking insult at another player and the two of them will then battle it out with their insults until a consensus is reached about who is the winner. If a consensus can't be reached, the other players can vote to choose one winner.
The game's designer, MaryMartha Ford-Dieng, really brings the game to life with her presence. Check out the site to pre-order the game and follow the game on Twitter to get more examples of some of the cards.
Even the Ocean uses a simple mechanic, and it's fantastic
Even the Ocean is a platformer that revolves around the central theme of balance. The main character is Aliph, a power plant technician, who must balance the forces of good and evil in her life.
To maintain balance, the player must expose themselves to a relatively equal amount of light and dark energy. At surface-level, the mechanic seems simplistic, but it's used to create a variety of different puzzles. When I played it at the expo, I was impressed with how much gameplay they could get out of such simple gameplay conceit.
You can grab Even the Ocean now on Steam for $14.99.
Start your morning by dressing up in (try to) Dress Up
It's no secret that I love games that represent cultures in a complex and nuanced manner. Dress Up is just that, but with a fun dressing game that is perfect (at least for me). Even better, it's free.
In a statement, the designer, Nivetha Kannan, talked about her love for dress up games:
"As a daughter of a mostly rural Indian family, my clothing choices were monitored very strictly. My mom and dad weren't strict on a lot of stereotypically Asian things (they let me major in art, for example,) but due to social expectations of women in our culture (and virtually every culture), my clothes were constantly censored by my parents. Dress up games gave me an outlet where I could dress as I wanted without reprimand."
Dress Up does a valuable service by being a personal game about the struggles of an individual with their culture, while also being really easy to understand and fun to play.
Even if cultural politics weren't involved, the warm playful art style is enough to make the game stand out on it's own. You can download Dress Up on either Mac or PC for free on the game's site.
More gaming news and updates
Check out the latest from Mic, like this essay about the sinister, subtle evils lurking in rural America that Far Cry 5 shouldn't ignore. Also, be sure to read our review of Tekken 7, an article about D.Va's influence on one Overwatch player's ideas about femininity and an analysis of gaming's racist habit of darkening villains' skin tones.