Jay-Z and Beyoncé's twins' names reportedly revealed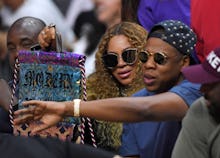 The silence from Jay-Z and Beyoncé surrounding the birth of their twins has been deafening for much of the internet. Though Bey reportedly gave birth weeks ago, the power couple has yet to share a picture, a birthdate or the names of the two newest additions to the family. But it was only a matter of time before TMZ found out.
Friday, on the same day Jay-Z released his 4:44 album, the celebrity gossip publication shared a report that Rumi and Sir Carter are the twins' names. They join Blue Ivy, the couple's eldest daughter, who is now 5 years old.
The publication uncovered the news through legal docs that a company owned by Jay and Beyoncé filed to secure rights for the names "Rumi Carter and Sir Carter."
The trademarks, TMZ reports, are are for "fragrances, cosmetics, key chains, baby teething rings, strollers, mugs, water bottles, hair ribbons, playing cards, tote bags, sports balls and rattles and novelty items." The couple attempted to do the same for Blue Ivy after she was born, according to Jay-Z, to prevent others from trying to profit off their daughter's name and identity.
"People wanted to make products based on our child's name and you don't want anybody trying to benefit off your baby's name," Jay told Vanity Fair in 2013. "It wasn't for us to do anything; as you see, we haven't done anything."
Jay-Z and Beyoncé have yet to confirm the report of the names. Mic has reached out to both artists' teams and will update if we hear back.
Mic has ongoing music coverage. Follow our main music hub here.