NES Classic Stock: ThinkGeek's product page suggests NES Minis may restock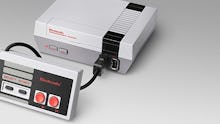 With news of the upcoming SNES Mini, a NES Classic Edition restock is near unbelievable. The console was discontinued by Nintendo back in April and stores like GameStop had shortages of the device even before then. Yet ThinkGeek hints on their NES Classic landing page that more stock could be coming up. "How is that possible," you ask? Yeah, we're wondering that too.
NES Classic Restock: ThinkGeek bringing more retro Nintendo consoles to the world?
ThinkGeek's NES Classic console page leaves us pondering about more units of the re-released vintage console. Upon visiting ThinkGeek's NES Classic page, there doesn't seem to be much out of the ordinary. One part, however, draws our attention. Next to the price of the device, the text "Coming soon!" appears in green. Not "we're out of stock" red, not "maybe we have some?" yellow, green people!
We reached out to a spokesperson for ThinkGeek, and the representative mentions the page hasn't been updated in a bit. Below the the hope-inducing "Coming soon!" green text is mention of their contest with a January 2017 deadline. Considering this, it's possible that the "Coming soon" is in reference to old information. Why it wasn't removed when the NES console eventually arrived is beyond us.
It's worth mentioning ThinkGeek's recent enthusiasm for Nintendo products, as seen by the company's recently announced 10 Switch bundles. A NES Classic restock could come next, but we wouldn't be mad if the "Coming soon" actually applies to the SNES Classic instead.
Check out more Nintendo news and coverage
Looking for more Nintendo Switch news? Check out how blind gamers are using the Nintendo Switch and why you can't get your Mii to look quite like you. Nintendo's left Joy-Con issue turns out to be a hardware problem — here's how to solve it. Find out how to buy a console amid the recent restock. Learn why the Switch cartridges taste so bad. Check out our comparison photos sizing up the Switch to the Wii U GamePad (part one and part two), or find out how to make use of ethernet without the dock and the best way to get alerts when new stock arrives.