Little Rock Nightclub Shooting: At least 28 people injured during gunfire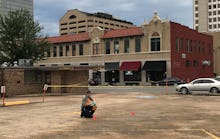 At least 28 people have been injured after a gunfight erupted at Power Bar and Ultra Lounge, a nightclub in Little Rock, Arkansas, USA Today reported. One person previously in critical condition has been updated to stable.
Little Rock police chief Kenton Buckner said in a statement to USA Today that the youngest shooting victim was 16 years old.
The shooting took place at about 2:30 a.m. and does not appear to be terror-related. All 17 people reported injured were reportedly hurt by gunfire, while several more people were injured trying to leave the club as the fight ensued, according to NBC News. Some were trampled, while others jumped out of a window to escape gunfire.
One patron was recording on Facebook Live during the incident when shots were fired. The graphic video shows the venue packed full of bodies and then panic erupting once shots are fired at around the 4:20 mark.
According to Power Bar and Ultra Lounge's Facebook, rapper Finese 2Tymes was set to appear, along with several other acts, as part of the venue's "Power Fridays."
The venue will be shut down, and the state has suspended its liquor license, according to the Associated Press. Mayor Mark Stodola told the AP the city will put the property into a criminal abatement program.
Buckner said it's possible that there are multiple suspects.
"Certainly during incidents such as this, emotions are very high. We need to be very careful with our words," Buckner said. "This is a blip on the map that we certainly didn't need, considering the history that we've had over the past week."
July 1, 2017, 4:42 p.m. Eastern: This article has been updated.